United States Steel (NYSE:X) is the 2nd largest steel producer in the U.S. and 8th globally. The company supplies its products in automotive, appliance, energy and construction applications (Bank of America Merril Lynch 2012 Global Metals, Mining & Steel Conference (pdf)).
In U.S. Steel's Q1 2012 earnings call held on April 24, 2012, the company noted that drilling activity was at a high level in the first quarter, which drove demand for the company's energy-related tubular products. The company indicated most of the steel related U.S. market segments have recovered fairly well, with the exception of construction. Construction appears to be the missing link for full U.S. economic recovery. On a negative note, the company indicated the flat-rolled segment is expected to decrease in the next quarter as a result of higher maintenance costs. Of note, U.S. Steel sold its Serbian operations in January of 2012.
Competitors to U.S. Steel include ArcelorMittal (NYSE:MT), Baosteel Group (private), Tata Steel (private) JFE Holdings and Nippon Steel.
U.S. Steel's stock price has been on a downward trajectory over the last year as shown below: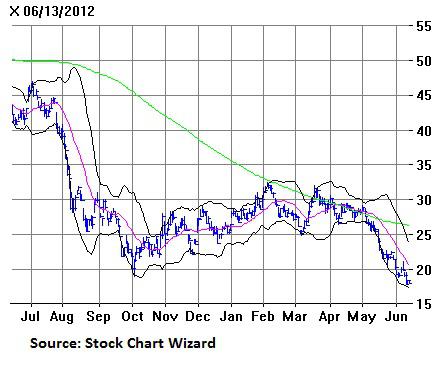 The company's stock price is currently in the neighborhood of its previous support level around $19, hit in October of 2011.
A protected covered call or collar search performed using PowerOptions tools, seeking to find the highest returning position for companies with a maximum potential loss of 8%, produced U.S. Steel as shown below:

Click to enlarge
Following closely behind U.S. Steel were pharmaceutical company Vertex Pharmaceuticals (NASDAQ:VRTX), independent oil and gas exploration and exploration company Pioneer Natural Resources (NYSE:PXD), bedding company Select Comfort (NASDAQ:SCSS) and digital video company Netflix (NASDAQ:NFLX) discussed in this article.
A protected covered call may be entered by selling a call option against a purchased or existing stock and using some of the proceeds from selling the call option to purchase a protective put option. The U.S. Steel protected covered call has a potential return of 3.9% (37% annualized) and a maximum potential loss of 7.6%, so even if the price of the stock goes to zero, the maximum loss which can be experienced is 7.6%.
The highest returning positions as shown above were found by selecting to search and sort by the highest returning positions. The 8% maximum loss parameter was selected, as a loss of 8% or less can typically be recovered fairly quickly using option income generating investment methods.
An investor in U.S. Steel seeking to position the investment for a potential return, yet protect against a large drop in stock price might consider entering the protected covered listed in the table above. Additionally, an investor seeking to take advantage of U.S. steel's increased option volatility may choose to enter the protected covered call. The specific call option to sell is the 2012 Jul 18 at $1.48 and the put option to purchase is the 2012 Jul 16 at $0.62. A profit/loss graph for one contract of the U.S. Steel protected covered call is shown below:
For a stock price below the $16 strike price of the put option, the value of the protected covered call remains unchanged. If the price of the stock increases to around $20, the position can most likely be rolled in order to realize additional potential return.
Disclosure: I have no positions in any stocks mentioned, and no plans to initiate any positions within the next 72 hours.