I believe Hawaiian Holdings Inc (NASDAQ:HA), the parent company of Hawaiian Airlines is one of the undervalued airlines, and with oil prices falling I think it will be a strong investment over the next year.
Hawaiian has been growing over the past few years, including adding routes to Asia. The company just launched direct service from New York to Honolulu. Hawaiian has taken delivery of 3 of 4 A330's they will get this year, with 13 more to be delivered between 2013 and 2015. These planes offer about 30 more seats then 767s, are more fuel efficient, and have a slight increase in range. The company is also slated to start receiving 6 A350's in 2017 with an option to acquire 6 more. These planes would have an increased capacity as well as a range capable of reaching new destinations in Asia and Europe. I believe these larger planes with increased range are important for Hawaiian as competition from west coast cities to Hawaii increases with flights from Alaska Air (NYSE:ALK) and Allegiant (NASDAQ:ALGT).
Over the past two months Hawaiian has seen analyst estimates of earnings for the current fiscal year, 2012, and next fiscal year increased notably. Current year earnings estimates have been increased over 17% from $1.15 per share to $1.35 per share. At the same time fiscal year 2013 estimates have increased almost 16%, from $1.38 per share to $1.60 per share. Hawaiian also has a history of beating estimates, consistently beating expectations over the past few years. Hawaiian is now trading at about 4.5 times 2012 earnings estimates, and 3.7 times 2013 earnings estimates. This for a company expected to grow earnings at 58% this year and 18.5% next year. Analysts also have an average price target on Hawaiian of $9.64, about a 60% gain from current prices.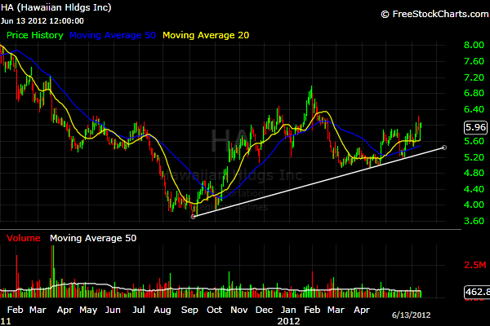 I think the chart shows a good uptrend from the past fall, and would be looking to buy if Hawaiian pulls back down toward that uptrend and the 50DMA around $5.50 per share. Resistance appears to be kicking in around the $6 level, and think the move down in oil prices could take it above that level, where I don't think Hawaiian would find resistance until $7 per share.
Data sourced from: Yahoo!Finance, and company filings. Chart from: Freestockcharts.com
Disclosure: I have no positions in any stocks mentioned, and no plans to initiate any positions within the next 72 hours.