One of the leading business software companies, SAP AG (NYSE:SAP) is a $68 billion large-cap company with solutions for businesses to operate more efficiently and to gain an edge on the competition. SAP offers various software solutions for small, medium and large businesses. The company's software covers all aspects of business such as financials, warehouse management, human resources, inventory, manufacturing, logistics, cloud and mobile solutions and more. Its various IT solutions help businesses navigate the necessary changes that are required during growth.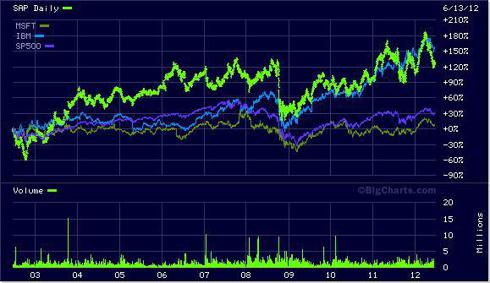 Click to enlarge
SAP is fairly valued with a forward PE ratio of 16.04, a PEG of 1.16, and a price to book ratio of 4.22. The stock tends to grow approximately in-line with earnings over time keeping it fairly valued.
The company is highly profitable with a profit margin of 23.9% and an operating margin of 31.8%. Management has achieved a return on equity of 30%. SAP has a solid operating cash flow of $5.3 billion and free cash flow of $3.87 billion. The company only uses about 21% of its free cash flow to pay its modest dividend of 1.2%. This allows SAP to put more money toward growing the business.
The balance sheet looks solid with total cash of $6.06 billion and total debt of $5.39 billion. The company has 1.13 times more current assets than current liabilities. The debt to equity ratio is a respectable 33.14.
SAP has grown earnings annually at a market beating pace of 12.41% in the last five years. It has 2 upward earnings revisions for 2012 and 3 upward revisions for 2013. For the next five years, SAP is expected to grow earnings annually at 12.53%. This expected growth is higher than IBM's (NYSE:IBM) and Microsoft's (NASDAQ:MSFT) growth of 11.5% and 9.13% respectively. This growth should take the current stock price of $57 to over $100 in five years.
The company's growth strategy is to strengthen its position as the market leader. It plans to do this by innovating and developing the world's best business applications. SAP plans on expanding its leadership with on-premise business applications. It also will introduce new on-demand solutions and enable new connectivity to mobile on-device applications.
SAP's business analytics solutions have been the key driver for growth. The company is using in-memory technology to enable business analytics applications that were previously not feasible in the past. The SAP Business by Design solution has been released offering applications that run completely in the cloud.
The Sybase acquisition allows SAP to help businesses become unwired by combining enterprise applications, business analytics, and a mobile infrastructure. Customers will have the confidence of having efficient coordinated data and processes on multiple devices.
Overall, SAP should continue to outperform the S&P 500 over the long-term. It also has a slight edge on expected earnings growth over its competition, IBM and Microsoft. This edge could add up significantly over several years.
Disclosure: I have no positions in any stocks mentioned, and no plans to initiate any positions within the next 72 hours.