A 'Harsh Lesson' Ahead For Dividend Investors?
In a recent Financial Times column ("Harsh Lesson Is Brewing For Those In Search Of Yields"), Michael Mackenzie noted that, all things being equal, low Treasury yields should be positive for equities with good dividend yields, but "a harsh lesson" might be in store for investors gravitating toward high dividend paying stocks as a haven:
A slowing global economy, beyond the outcome of the eurozone crisis, translates into lower profits for the US multinationals that dominate the S&P. Citi's Private Bank issued a sobering report this week: 'Bond yields that are so low don't make equities more attractive if they are telling you that growth is likely to be extraordinarily weak.'
One Potential Way To Avoid A Harsh Lesson
Weak growth, of course, could lead to weaker earnings, and weaker earnings could make it more difficult for companies to maintain their current dividend payments. In this environment, it might make sense for dividend investors to screen for stocks that have exhibited growth and sustainability in their dividend payments. The Earnings and Dividend Ranking system by Standard & Poor's runs such a screen by starting with a computerized scoring process to measure growth, stability and cyclicality of earnings and dividends over the most recent 10-year period. S&P then reviews and sometimes modifies those scores to account for special considerations a purely mechanical approach might miss. Then it ranks the stocks according to seven grades, from A+ to C.
Another Potential Way To Avoid A Harsh Lesson
In addition to low growth, another potential risk for investors in dividend-paying stocks is a compression in valuations. As Mackenzie noted in his Financial Times column, S&P 500 dividend yields have been significantly higher in the past -- over 5% in the early 1980s, for example, compared to just over 2% today. In a low growth environment, the proximate cause of higher yields may be a drop in share price, rather than a rise in dividend payments. Investors concerned about drops in share price may want to consider hedging.
In the table below, we'll look at both potential ways of avoiding a harsh lesson: starting with a basket of stocks ranked B+ or better by the Standard & Poor's Earnings and Dividends Ranking system, and then showing the costs of hedging them against greater-than-20% declines over the next several months, using optimal puts.
As of Tuesday's close, there were 25 stocks ranked B+ or better by the Standard & Poor's Earnings and Dividends Ranking system that had trailing dividend yields of 5% or greater. The table below includes the five most actively traded of those stocks.
A Comparison
For comparison purposes, I've added the SPDR S&P Dividend ETF (SDY) to the table below. First, a reminder about what optimal puts are, and an explanation of the 20% decline threshold; then, a screen capture showing the optimal puts to hedge one of the names below, Exelon Corporation (EXC).
About Optimal Puts
Optimal puts are the ones that will give you the level of protection you want at the lowest possible cost. Portfolio Armor uses an algorithm developed by a finance Ph.D. to sort through and analyze all of the available puts for your position, scanning for the optimal ones.
Decline Thresholds
In this context, "threshold" refers to the maximum decline you are willing to risk in the value of your position in a security. You can enter any percentage you like for a decline threshold when scanning for optimal puts (the higher the percentage though, the greater the chance you will find optimal puts for your position). I have used 20% thresholds for all of the names below.
The Optimal Put To Hedge EXC
Below is a screen capture showing the optimal put option contract to buy to hedge 100 shares of Exelon Corporation against a greater-than-20% drop between now and Jan. 18. A note about these optimal put options and their cost: To be conservative, the app calculated the cost based on the ask price of the optimal puts. In practice, an investor can often purchase puts for a lower price -- i.e., some price between the bid and the ask (the same is true for the rest of the names below).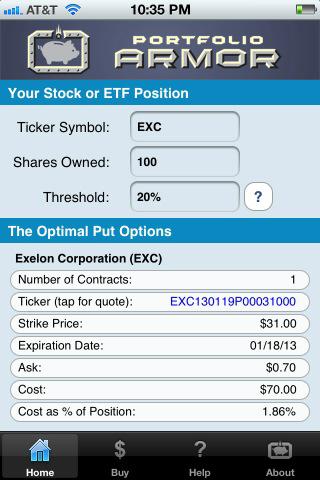 Hedging Costs And Yields As Of Tuesday's Close
The hedging data in the table below is as of Tuesday's close, and is presented as percentages of position values. The yields were taken from Fidelity's screener and are as of Tuesday's close as well. Note that Fidelity's methodology in calculating dividend yields is to annualize the most recent dividend payment, and that this may not always be indicative of future dividend yields. Bear in mind also that the yields below are annualized, but the hedging costs below aren't.
As the table below shows, three of these stocks have double-digit hedging costs now. If you own them as part of a diversified portfolio -- and are content to let that diversification ameliorate your stock-specific risk, but are still concerned about market risk -- you may want to consider buying optimal puts on an index-tracking ETF (such as SDY) as a way of hedging your market risk.
| | | | |
| --- | --- | --- | --- |
| Symbol | Name | Div. Yield | Hedging Cost |
| PBI | Pitney Bowes | 10.7% | 10.3%* |
| EXC | Excelon Corp. | 5.59% | 1.86%* |
| AVP | Avon Products | 5.80% | 11.1%* |
| CLF | Cliffs Natural Res. | 5.38% | 15.0%* |
| PPL | PPL Corp. | 5.21% | 1.81%* |
| SDY | SPDR S&P Dividend | 3.23% | 3.90%* |
*Based on optimal puts expiring in January.
Disclosure: I have no positions in any stocks mentioned, and no plans to initiate any positions within the next 72 hours.