Zoran (Nasdaq: ZRAN), was January's Stock of the Month at the Israel Opportunity Investor.
• • •
Background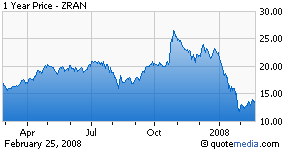 Zoran develops and markets integrated circuits (ICs) that provide digital signal processing (DSP) capabilities to a variety of consumer electronic products. These products are used in DVD players, home theatre systems, and digital cameras. The company also develops products for digital video delivery via set-top box or television. The company sells through Original Equipment Manufacturers (OEM) who package them into digital and audio products sold to consumers.
Investment Thesis
Riding the consumer electronics wave: Zoran is riding the burgeoning consumer electronics wave. Consumer electronics account for 80% of ZRAN's revenues. Whether it's DVD (over 30%) or digital cameras (over 30%) or Digital TV [DTV], which accounts for almost 20%, Zoran plays a key role in the consumer and computer move towards more sophisticated products.
New product initiatives: The company just rolled out its blue laser DVD product for Blu-ray and HD DVD markets. ZRAN also is marketing numerous new products for digital picture frames, portable and in-car DVDs/TVs, and the standard definition STB markets.
Zoran is innovative and prides itself on creating leading-edge products powering the newest and hottest consumer electronic markets.
Cheap, cheap stock: The company has over $7 per share in cash on its balance sheet. If you assume trough valuations of 15-16x during a down cycle on $0.95 EPS for 2008, the stock looks good. Factor in the cash and potential upside to earnings and ZRAN looks really juicy. The stock is trading at only 1X LTM sales, approaching its historical lows of .8X-.9X.
Earnings shortfall: Zoran reported earnings for 2007 and gave weak guidance for 2008. We think the company is sandbagging it a bit, guiding down more than necessary to reflect uncertainty about consumer spending in 2008. Zoran shares have fallen to an all-time low enterprise value/LTM sales multiple. In spite of the potential Q1 softness, we believe the company to be really undervalued at these levels.
Catalysts
Digital conversion: In February 2009, the U.S. will turn off analog TV broadcasts, forcing the conversion to digital TV. In order to receive the new signals, the installed base of analog TVs will need to connect to an ATSC converter box. Congress has approved a coupon program such that each qualifying household will receive two $40 coupons to defray the cost of buying a converter box. Management estimates that the number of converter boxes sold ahead of the turnoff could reach 20-25 million units. Zoran typically sees a high-single digit dollar content off of these units. Nice driver.
Growth in DTV and tier-one OEM design win: Zoran markets a SupraHD product to the DTV market. Zoran experiences sequential growth of 41% and forecasts more DTV revs in Q4. Zoran is positioned well in Insignia, Magnavox, RCA and Sanyo (found in Best Buy) and has new wins at Fujitsu and Mitsubishi. The company feels confident it can secure a tier-one win with an LCD TV OEM in 2008.
Further market grab in DCAM (digital cameras): Zoran has about 30% market share of the DCAM silicon market. Given current penetration and the market opening up for high-end digital SLRs, Needham thinks ZRAN can eke out some more share grab and exit 2008 with 35% of a growing market.
Giving back: Given the company's strong cash flow generation, we believe the company is increasingly likely, at current share price levels, to implement a formal program to begin returning cash to shareholders, most likely through buybacks.
Threats to the Thesis
Consumers spent up, not pent up: Many analysts are forecasting a recession for 2008, citing consumer debt as weighing heavily on the economy. Zoran's products are used in high-end digital equipment which consumers may put off purchasing in a tough economy. There is a lot of elastic demand here, and ZRAN has 80% exposure to the consumer. The company's soft Q1 guidance for 2008 reflects a weakening U.S. consumer.
Inventory build-up: With semiconductor companies facing spikes or lapses in demand, inventory plays a key role in performance. If there is a consumer slowdown, inventory tends to build in the supply and retail channel.
Increased competition: While Zoran has strong market share in the markets it competes in, increased competition would probably lead to decreases in market share and price declines in the DVD player, DVD recorder, DTV, and digital camera markets.
Disclosure: The author's fund has a position in ZRAN as of February 24, 2008.