3D Systems (NYSE:DDD) completed their secondary offering today, selling $100M in shares at $27. While this was well under the price before the announcement, I view the recent sell off as a buying opportunity and looking for a good entry point.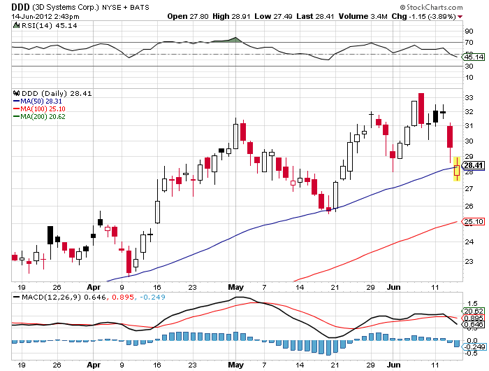 The daily chart gives me some hints that any further weakness should end if DDD heads to $26 with $25 providing significant support. With a recent series of higher highs with lower RSI, I would expect this weakness to continue to that point, especially if the stock bounces down off the current test of the 50DMA from the underside.
Printing…. In 3D!
While 3D printing is still not a mainstream technology, the potential for commercial adoption is quite high. If marketed correctly, this could easily be a holiday must have once the price becomes reasonable. I wouldn't put it past Apple (NASDAQ:AAPL) introducing the iPrinter after acquiring 3D systems or Stratasys (NASDAQ:SSYS) and integrating the technology. Letting loose a bunch of Apple designers creating iKitchenTools or the like would be an interesting development that I see as possible within the next 3-5 years.
With 3D systems already having a "retail" system priced at $1300, we could easily see a more marketable version in the $400 range in 2-3 years once Moore's law works its magic on product development cycles. While $1300 is likely too much to justify a holiday purchase, once we head sub $500, we are entering an easier market to move product on a large scale. Anyone buying DDD would be justified in having a long term investment window as the potential for the 3D printing industry is still largely untapped.
What's the Trade Marmalade?
If you believe that 3D printing has as much potential as many believe, dollar cost averaging in whenever the daily RSI on DDD drops below 45 sounds like a sound plan. If you had followed that plan you would have missed the lows but avoided buying at the highs. Just using the last 6 months as a guide, you would have been able to enter in at 22, 26 and now again at 28. If your holding period is measured in years, simply piling cash up and waiting for entry points on weakness should be a successful strategy.
Anyone looking for a shorter duration trade should look for support at $25-$26 and sell once the RSI shows a bearish divergence with higher highs in price with lower RSI. While this is of course easier said than done, it should provide you with some technical backdrop to guide your trade.
The great thing about this technology is now not only can you get Weird Al Yankovic in 3-D (throwback!), you can print in the third dimension as well. 4D printing (like 4G, only, you know, more time oriented) is still on the drawing board but may have been released at all points in time anyway, no first mover advantage there.
Disclosure: I have no positions in any stocks mentioned, but may initiate a long position in DDD over the next 72 hours.