MDC Partners Inc (MDCA) announced that Bratskeir & Company, LLC, (an MDC Partners Inc. Agency), and Clifford Public Relations, LLC, will merge operations, effective immediately. Listen to the hype and hyperbole in the press release. The quote that struck me is as follows:
The new agency's unique point of difference will be guided by a shared vision – one that puts a premium on understanding clients' businesses and creating strategic programs that utilize an extensive arsenal of capabilities that deliver meaningful results.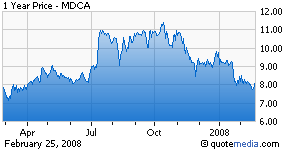 Well if that's not a winner I do not know what is. But let's ask a few questions. MDC is a publicly traded company. What are the financial terms to the transaction? How will this shared vision translate into tangible results for investors? Other than that, why would investors care about an immediate merger that has no financial information publicly announced?
When the press release headlines "MDC Partners' Acquisition of Clifford PR Establishes Bi-Coastal Agency, Delivering Full-Spectrum Service to Best-In-Class Clients", you should be able to expect a measurable increase in value. But maybe that's the problem with this company. It's all hype and no numbers to take to the bank.