Back in September I wrote a Seeking Alpha article, American Realty Capital Properties IPO: Not A 'Sleep Well At Night' Investment, and in that article I described the newly listed REIT as follows:
The biggest issue that I have with the IPO (September 7, 2011) is that the assets are highly concentrated with just two tenants, and one of the two tenants is a troubled bank with minimum lease term remaining. Furthermore, like many banks, branches are being reduced in size and, as a result, the "brick and mortar" model is becoming less important (to the banking model).
American Realty Capital Properties (ARCP) is a triple-net sector REIT that focuses on free-standing properties with "medium term" (3 to 8 years) leases and below market rents. The value proposition for ARCP is to provide investors with significant asset appreciation and compelling initial yields. ARCP targets investment-grade tenants and seeks to grow contractual rent while acquiring properties at or below replacement cost.
As I wrote nine months ago, ARCP capitalized the REIT with 60 bank branches (leased to one bank) and one Home Depot distribution center. ARCP was capitalized (the IPO) with a total of 5,580,000 shares ($12.50 a share) resulting in around $69.75 million of equity. Later ARCP followed up with an add-on offering of around $18.687 million (after fees).
Earlier this week ARCP announced the pricing of its previously announced underwritten public offering of common stock at a price of $10.00 per share (less underwriting discounts and commissions). The size of the offering has been upsized from 3,000,000 shares to 3,250,000 shares - bringing ARCP's total shares outstanding to around 10.9 million shares.
What a Difference Nine Months Makes
Since September 2011 (the IPO), ARCP has increased its asset base by 82 percent. In addition, ARCP has increased square footage by 163 percent and revenue by 100 percent. Today the portfolio is comprised of around two million square feet (includes 22 properties under contract described in the company's S-11 filed May 25, 2012).
The portfolio has an average lease term of 7.1 years with occupancy of 100 percent and 99 percent of the tenants are investment-grade rated. Here is a snapshot of the progress during the past eight months: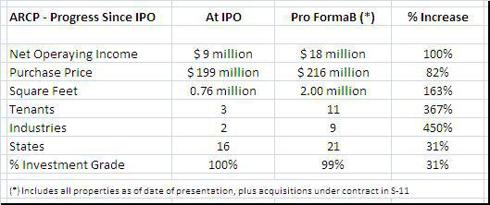 Click to enlarge
In addition the once non-diverse portfolio (two tenants) has expanded to include a variety of new tenants and sectors. For example, ARCP has 20 Dollar General stores, two Walgreens, six Advance Auto Parts, and six FedEx distribution facilities. One of the most recent transactions was a John Deere facility that is around 522,960 square feet that was purchased a cap rate of around 8.5 percent. Here is a snapshot of the latest portfolio properties: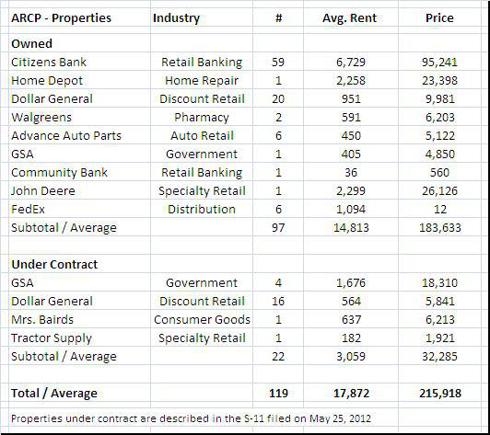 Click to enlarge
At IPO ARCP's portfolio was comprised of just three tenants - Citizens Bank (74.6 percent of annual rent), Community Bank (.4 percent of annual rent) and Home Depot (25 percent of annual rent). Since the IPO, ARCP has reduced its exposure with Citizen's Bank from 75 percent to 37 percent. In addition, ARCP has diversified its revenue by adding eight new credit tenants.
Furthermore, ARCP has greatly improved its industry diversification from two sectors (retail banking and home repair) to six new categories. This strategic growth strategy has further reduced ARCP's exposure to retail banking from 75 percent to 37 percent.
Also the portfolio is of the highest quality as 99 percent of rents are derived from investment grade rated tenants. In fact, Tractor Supply is the only non-rated tenant and the company does not carry enough debt on its balance sheet to be rated. (effectively meaning an investment grade shadow rating would result in a portfolio that is 100 percent investment grade rated credit).
Management Makes a Difference
As noted above, nine months does make a difference and the ARCP management team has done an excellent job at developing the platform. Furthermore, insider ownership controls over 20 percent and that aligned investment strategy provides some unique incentives for shareholders.
The Chief Executive Officer and Chairman of the Board, Nicholas S. Schorsch, has completed over 1,000 acquisition transactions in excess of $ 5 billion and with a diverse track record in managing capital and assets related to medical office, shopping centers, and net lease funds. The Philadelphia Inquirer once dubbed Schorsch the "Banker's Landlord" for his prodigious building of a portfolio of bank real estate.
In addition, Schorsch recently orchestrated several newly listed public REITs - American Capital Property Trust (NASDAQ:ARCT) and Healthcare Trust of America (NYSE:HTA). Interesting to note that ARCT is now the second largest triple net sector REIT and its smaller sister REIT, ARCP, invests in similar property types with the exception that ARCP invests in "medium" duration leases and ARCT invests in long-term leases.
Show Me the Money
In closing and as a follow-up on the nine month review, ARCP is becoming a much better REIT model. Initially I was skeptical relative to management's decision to capitalize the portfolio with just two tenants - one highly concentrated with one financial institution. However, the 82 percent growth supported by strong cash flows, low operating costs, and experienced management has made an impact and I'm pleased to see the investment strategy become more balanced and risk-aligned.
ARCP pays monthly dividends and the distributions have increased ($.885 per share) twice since the IPO. The AFFO impact to the follow-on ($1.05/share) should result in continued dividend safety as the capital that is raised will further enhance overall portfolio diversification and capital appreciation.
ARCP's peer group includes Realty Income (NYSE:O), National Retail Properties (NYSE:NNN), American Realty Capital Trust , and Agree Realty (NYSE:ADC).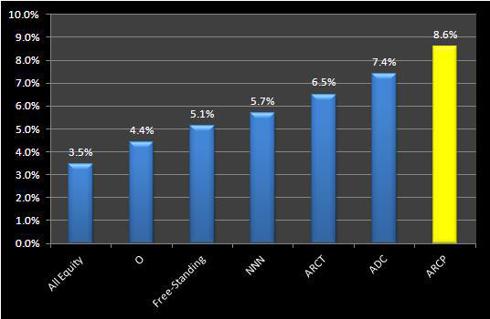 Click to enlarge
ARCP closed today at $10.00 per share and the current dividend yield is 8.6 percent (highest dividend in the triple net sector). The "medium" term leases do support a higher risk proposition; however, management is continuing to demonstrate expertise in managing its risk and providing shareholder value. I was especially glad to see some accretive investments being made like the John Deere facility and multiple facilities leased to Dollar General.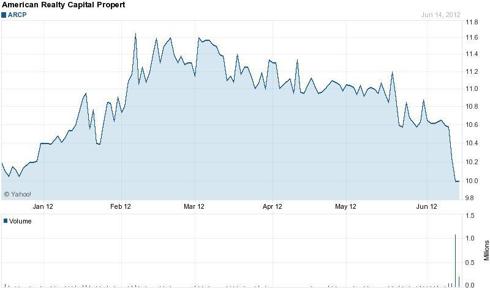 Click to enlarge
Disclosure: I have no positions in any stocks mentioned, and no plans to initiate any positions within the next 72 hours.