JA Solar Holdings (NASDAQ:JASO), a Chinese solar cell and module maker, yesterday announced a $100M share buyback. The program allows JASO to purchase up to $100M of its issued and outstanding American Depository Shares anytime between now and September 30th, 2012. If the company completes the share buyback at the current price (as of June 14th) of $1.10, it will reduce shares outstanding by 91M, or 46.5%. Yesteray's trading volume on JASO increased by 83% in the first hour of trading versus its average 3-month daily trading volume.
Click to enlarge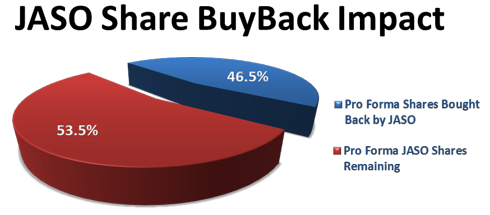 Click to enlarge
Source: JA Solar's Q1 Earnings Release
We think that the long-suffering investors of JA Solar should take advantage of this program and sell now in order to salvage something from their investment in this company. We have noted that the company has $3.61 of gross cash and investments on its balance sheet.
As followers of the Graham-Buffett value discipline of investing, we would certainly take note of such a company in order to perform further research, analysis and evaluation on it. We would also be thrilled that the company has a book value of $5.11, which means that the company is trading at a discount to book value of 78.5%. We believe that the old master Ben Graham would give his blessing to such a company, after all it is trading at a 70% discount to cash and a 78.5% discount to book value.
However, the Buffett side of us would certainly not buy this company, even though it meets the margin of safety requirements of Ben Graham. At Saibus Research, we are interested in companies that not only trade at a margin of safety, but have the potential to grow its free cash flows. We haven't seen the solar company generate positive free cash flows from operating the solar business. The reasons why we believe that JASO shareholders should take advantage of this buyback program to cash out and salvage some value from their investment is because of the following:
JASO's primary source of cash inflows since its formation has been RMB3.6B in common stock proceeds and RMB6.6B in net debt issuance. We strongly prefer companies that generate cash inflows from free cash flows from business operations.
JASO has had only one year of positive free cash flows. In 2009, it generated FCFs of RMB508M. Every other year has seen a significant level of cash burnt by the business.
The company's products are heavily dependent on government subsidies, which have been cut back in the last year and are expected to continue to decline.
Demand for the industry's products has not only stopped growing, but has shown rapid declines in the last year.
Chinese solar companies are facing parity tariffs on exports to the U.S.
We believe that JASO should save its money in order to enable it to weather the continued losses that it and its solar brethren will be facing.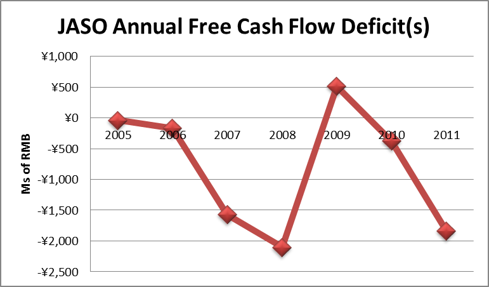 Click to enlarge
Source: Morningstar Direct
We don't know the motivation for JASO's buyback. Maybe management is looking to create a short squeeze in the stock as 11.4M, or 6% of the company's shares, are being sold short. Or maybe management wants to ensure that the stock is trading over $1 per share in order to maintain its NASDAQ listing. Regardless, we believe that this stock buy-back will only provide a short-term boost to the stock price of JASO and to a lesser extent its competitors. That is why we believe that investors should sell their shares in JASO and reinvest the "proceeds" in a higher quality industry that doesn't rely on government subsidies to stimulate demand.
In conclusion, we believe that if one is looking for a high-quality growth company or a deep value potential turnaround to invest in, we don't recommend investing in JASO. We believe that JASO is an overhyped, overrated, underachieving broken-growth stock that is dependent on the fad of "green energy". We believe that if you want to build a RMB 1B solar company, you need to start with RMB 10B and hope that management doesn't blow it all. Here are more reasons why we recommend investors sell their JASO shares and recommend aggressive investors short JASO shares:
JA Solar's may have shipped 4% more megawatts than anticipated in Q1 2012; however, it was still an 18.9% decline from Q1 2011.
JA Solar's revenue collapsed by 56% Q1 2012 versus the comparable quarter last year.
JA Solar's rapid expense growth compounded its revenue woes. Expense growth soared by 125% versus the prior year's quarter.
JA Solar's RMB1.4B in convertible bonds will more likely than not need to be redeemed in cash rather than in shares of JASO.
In fact, with the exception of RMB190M in January 2015, all of JASO's debt is due within the next 25 months. We believe that JASO should be trying to monetize whatever it can get from operating the company in order to pay down its debt maturities.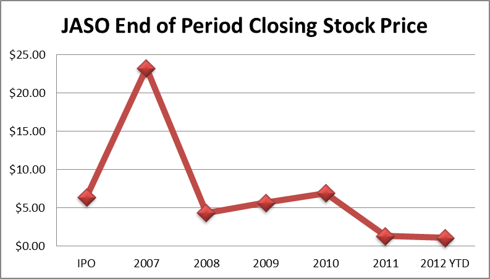 Click to enlarge
Source: Morningstar Direct
Disclosure: I have no positions in any stocks mentioned, and no plans to initiate any positions within the next 72 hours.
Additional disclosure: Saibus Research has not received compensation directly or indirectly for expressing the recommendation in this report. Under no circumstances must this report be considered an offer to buy, sell, subscribe for or trade securities or other instruments.