Over the past year, no other sector in the stock market has been hit harder than energy. As a year, 2012 has not been easy on this sector, as it currently sits 10.46% lower today compared with a year ago. So why did the energy sector take such a big hit in this market in comparison to all the other sectors? Though no one can be completely certain, there are multiple reasons that come into play.
One reason for the declining value of the energy sector has been the decrease in natural gas prices. Natural gas has hit all-time lows of late because there are abundant supplies of it and just not enough demand as yet. Until the government makes a conscious effort to utilize natural gas, it will probably continue to stay at low prices. With the use of fracking, the amount of natural gas that exists and can be harvested are now virtually limitless.
Companies such as Westport Innovations Inc. (NASDAQ:WPRT) and Cummins Inc. (NYSE:CMI) - which create engines that run off of natural gas - could get a huge lift if the United States ever embraced natural gas as an alternative to oil. TravelCenters of America (NYSEMKT:TA) and Royal Dutch Shell (NYSE:RDS.A) reached agreements to build a network of 200 natural gas fueling lanes and 100 TravelCenter gas station along the U.S. Interstate Highway System.
The following chart shows the movement of the Energy Select Sector SPDR ETF (NYSEARCA:XLE) so far in 2012:
Click to enlarge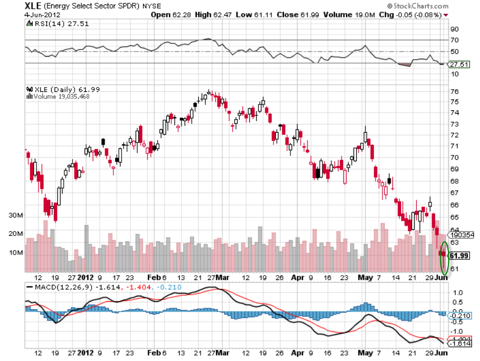 Another reason to contribute to the decline in the energy sector has been slowing economic growth. Though many are optimistic about America and the direction it's heading in, there are no real indicators that say the state of the economy now is any better than it was three years ago.
The global economy is worsening and demand for energy is lower than usual. Even China is feeling some backlash of the poor global economy. Its manufacturing capabilities are being suppressed due to lack of consumer demand from the rest of the world. The U.S. still seems to think it can spend its way out of the recession.
However, the big question mark on the current economic recovery is whether it can be attributed to a stronger economy, or is it an artificial boom caused by stimulus packages? The 2012 election in the U.S. will decide which route the U.S. economy takes and will affect future growth as well as energy regulations.
Energy is down today, but in the future it will rise again. The whole world is so dependent on energy, no one knows for certain what the future will entail for it. Buying on dips and negativity in the present though can never hurt, and it's hard to imagine the energy sector getting much worse in 2012.
Exxon Mobil Corporation (NYSE:XOM), Chesapeake Energy Corporation (NYSE:CHK), EOG Resources Inc. (NYSE:EOG), Devon Energy Corporation (NYSE:DVN), ConocoPhillips (NYSE:COP), Chevron Corporation (NYSE:CVX), Suncor Energy Inc. (NYSE:SU), BP Plc (NYSE:BP) and Marathon Oil Corporation (NYSE:MRO) are all stocks that have pulled back as of late. Investors should keep an eye on this group of stocks and consider buying when they think the bearish trend is bottoming out.
Disclosure: I have no positions in any stocks mentioned, and no plans to initiate any positions within the next 72 hours.