The biggest one-day gain in natural gas futures in years sent the energy sector for a ride on Thursday, as it appears gas is being consumed faster than was previously forecast. This is welcome news across the board (Wall Street, not Main Street) for energy stocks from the likes of margin-squeezed gas producers like Chesapeake (NYSE:CHK) to price-undercut competitors like Powder River Basin coal producer Arch Coal (ACI).
The coal sector remained flat on the canvas Thursday, but the gas producers took off with "agasto" (thank you) and registered huge one-day gains. Gaining more than 5% were Cabot Oil & Gas (NYSE:COG), Petroquest Energy (NYSE:PQ), Goodrich Petroleum (GDP), Ultra Petroleum (UPL), and Rex Energy (NASDAQ:REXX). (Source: Google Finance.)
Cabot closed above $35 for the first time in June, so its stock had a nice bump. With options expiring tomorrow however, used-to-be out-of-the-money $35 June 16 Calls that sold for 6 cents a pop yesterday are now in-the-money and going for, wait for it, 55 cents - a cool 816% one day gain.
Click to enlarge

Click to enlarge
This is the kind of thing you get right before options expire, 8% gains turn into 800% on left-for-dead options. Best not to try and game this sort of thing, but cheers to whomsoever did.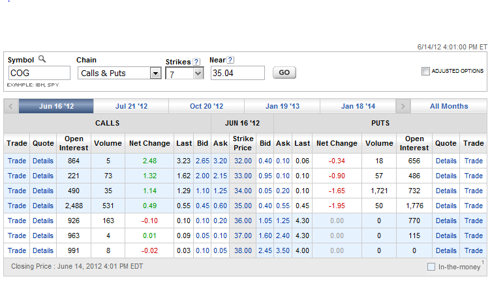 Click to enlarge
Disclosure: I am long ACI.