The Dress Barn, Inc
(DBRN) is expected to report Q2 earnings Wednesday with a conference call scheduled for 4:30 p.m. ET.
Guidance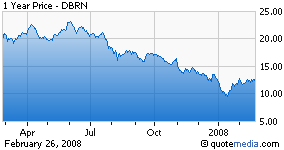 Analysts are looking for a profit of 6c on revenue of $337.08M. The consensus range is 0c to 10c for EPS, and revenue of $328.11M to $343.02M, according to Reuters. In January, the company said it sees 2008 EPS $1.05 to $1.10 vs. Reuters consensus of $1.04, down from the previous range of $1.25 to $1.35. The company estimated Q2 same store sales will decrease in the mid-single digits, with Dress Barn stores decreasing 5% and Maurices stores increasing 5%.
Analyst Views
Stanford
, which recently downgraded shares to Hold from Buy, said it expects weak traffic trends through the end of FY08 ending in July. The firm said traffic was hurt by macroeconomic challenges, such as less discretionary income, and by the lack of a compelling product. Stanford also said that "this below-plan demand created a substantial mismatch" that featured too much inventory and higher markdowns. The firm expects that lower average pricing comprised about half of the negative comp and consequently severely pressured the merchandise margins. Stanford also sees soft consumer spending over the next several quarters.
CL King
analysts downgraded the stock to Accumulate from Buy and
Broadpoint
recently lowered its target to $14 from $18 to reflect weak holiday sales. Analysts and investors will listen for comments on how the company has been impacted by the consumer spending slowdown, higher gas and food prices, as well as turmoil in the housing and credit markets.