Famous investor Peter Lynch's maxim of "invest in what you know" still offers investors a lifeline when figuring out where to start researching for stocks. The second quarter climate of the stock market has driven many investors to drink, and fleeing for the safety of non-cyclical, dividend-heavy stocks besides. It doesn't take much to connect the dots on a potential strategy, leading one to consider a play on the alcoholic beverages industry, which could be Diageo PLC (NYSE:DEO).
Diageo is an alcoholic-beverage giant, selling beers, wines, and spirits. Among the London-based company's key brands are Guinness, Red Stripe, and Tusker (essentially national beers for Ireland, Jamaica, and Kenya, respectively); Dom Perignon distribution in Africa; and the murderer's row of Johnny Walker, Bushmills, Crown Royal, Captain Morgan, Tanqueray, Baileys, Smirnoff, and Ciroc as leaders of its spirits brands.
Looking at that list will surely lead you to think about your own liquor cabinet or favorite bar, but it also might remind you of Diageo's effectiveness at building brands. Captain Morgan's, for example, has only been around a little less than 30 years and yet is ubiquitously sold and advertised, and ranks as the #2 rum in the world (behind Bacardi). Ciroc, the best vodka I've ever tasted, was launched in 2003 and already ranks in the top 100 premium spirits in the world on volume and value, with Diageo shipping about 1.5M 9-litre casks in FY 2011 (Smirnoff ranks low on my list, for what it's worth). The brand was Diageo's fastest grower in 2011, with volume increasing by 123%. Chances are people in the U.S. associate Ciroc with Sean "P-Diddy" Combs, the musician and entrepreneur who has been instrumental in building the brand. Feelings on Combs aside, this stands as another testament to Diageo's marketing and operational heft.
Diageo's overall performance has been strong. The company has delivered earnings growth across three of its four main regions: 8% operating profit growth in North America, 13% in Asia Pacific, and 19% in Latin America and Africa, against a 7 % decrease in Europe. The company's profit increased in all regions during the 2nd half of CY 2011 (its 1st half of FY 2012), and alcoholic beverages is an industry relatively safe from the vicissitudes of Europe and the cyclical economy as a whole.
Diageo's confidence in its position was reaffirmed in recent announcements. First, the company announced its purchase of Ypioca, a top premium cachaça maker in Brazil, giving the company another premium brand in a high-growth market (despite recent Brazil slowing). Then, the company announced $1.5B in new spending for its scotch and whiskey brands to meet global demand; Johnny Walker's growth in developing markets especially provided impetus for this move.
Diageo's balance sheet despite this new spending appears pretty solid. The company has a current ratio of 1.17 and a quick ratio of .61 (as of December 31, 2011). The debt to equity ratio is on the higher side at 1.13, but the company's strong cash flows suggest it will be able to manage this comfortably.
Dividends are also an attractive part of investing in Diageo, though the company's policy is unusual. Diageo pays out a semiannual dividend that is announced with the semiannual results. The dividend is not constant, and the first-half of the year dividend (most recently paid out this April) tends to be smaller than the second-half dividend on about a 40:60 ratio, as the company describes it. That said, the dividend has been increasing by about 6-7% on an annual basis, and yields over 2.5% at current levels.
The stock has performed well, as one might expect in this defensive climate. Diageo hit its 52-week high in May and is trading about 5% off those highs, putting it in an interesting pullback range. That said, the stock has not dramatically outperformed peers.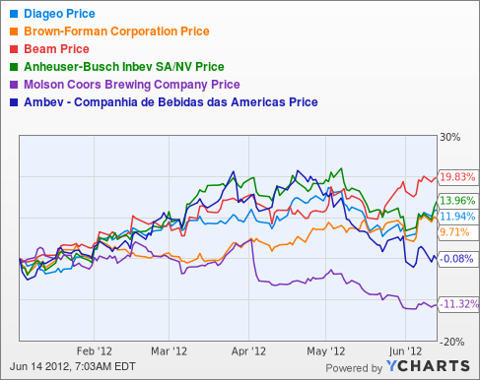 Click to enlarge
Considering this is a strong performing sector, the next step is to evaluate Diageo's value as compared to its peers:
(Sources: TDAmeritrade, WSJ)
As of Q1 2012

Diageo PLC

Beam Inc.

(NYSE:BEAM)

Brown Forman

(NYSE:BF.B)

Ambev

(ABV)

Anheuser-Busch InBev

(NYSE:BUD)

Molson Coors (NYSE:TAP)

Market Capitalization

$62.1B

$9.6B

$7.6B

$50.85B

$111.9B

$6B

Quarterly Revenue Growth (Y-over-Y)

8.21%

1.87%

31.19%

10.27%

3.65%

flat

Yearly Revenue Growth

1.60%

10.26%

39.79%

7.50%

7.57%

8.05%

EPS Growth (Annual)

14.45%

1.40%

6.59%

28.48%

33.18%

-0.35%

Estimated Earnings Growth (next 3 years)

16.13%

10.75%

10.40%

8.72%

12.98%

2.39%

Earnings 2011

4.83

2.12

3.56

1.58

4

3.76

Earnings 2012 (Est.)

5.87

2.35

3.91

1.69

4.67

3.68

Earnings 2013 (Est.)

6.5

2.6

4.34

1.85

5.05

3.82

Free Cash Flow/Share 2011

4.12

1.84

5.34

3.3

5.72

3.4

2011 P/E

20.53

28.82

24.84

22.99

17.49

10.29

2012 P/E

16.90

26.00

22.62

21.49

14.98

10.52

2013 P/E

15.26

23.50

20.38

19.63

13.85

10.13

PEG Ratio

1.27

2.68

2.39

2.64

1.35

4.31

2011 P/FCF

24.07

33.20

16.56

11.01

12.23

11.38

Price

99.18

61.09

88.44

36.32

69.94

38.7

Dividend

2.64

0.82

1.4

1.19

1.56

1.28

Dividend Yield %

2.66

1.34

1.58

3.28

2.23

3.31
(Notes: Diageo reports on a semi-annual basis, not a quarterly basis. Diageo's earnings are non-GAAP. Brown Forman's fiscal year 2012 ended April 30th, 2012, so earnings figures are a year ahead of the column to the left.)
The sector as a whole is very highly valued, again a result of the defensive climate that has led many investors to rotate into safer stocks like these. That said, Diageo's numbers are much better than its liquor peers, and among this group only Anheuser-Busch InBev offers a compelling contrast in both growth and valuation metrics. Comparing those two companies head-to-head, Diageo may benefit from a better price mix as it has more premium brands, allowing it to push through or maintain higher prices. Diageo also has a better dividend yield and may have more room to grow as a company compared to the colossus that is InBev.
At this point, investors interested in Diageo might be behind the rotational curve that has led to inflated P/E ratios. Still, the outlook for the second half of 2012, at least, is not terribly sunny, and defense may continue to be the correct strategy. Diageo's business itself is robust, the dividend is likely to continue its growth, and analysts are bullish on the company: Diageo's average rating among 25 analysts is 1.76 (per WSJ), translating to a strong buy, and the stock just received another upgrade from Nomura Securities on Thursday, June 14th.
If Diageo hits its earnings estimates and maintains its multiple, 20x 2013 earnings would give an 18-month target price of 130, a 31% increase from current levels. Shorter-term, if the company hits the mark when it releases 2H FY 2012 earnings in August, 20x those estimates would yield a price of 117.4 by next June, an 18% or so increase. With a 2-3% dividend yield on top of that, Diageo becomes a very interesting and attractive dividend investment.
I believe that the global economic climate is not quite as gloomy as the recent market pullback implies, and I like buying cyclical names when they are at their current low multiples. That said, balancing those cyclical picks with steadier stocks that pay good dividends and are likely to succeed in the most difficult of climates is always wise. Many investors are likely familiar with Diageo's brands. Those who aren't are encouraged to do their own research, whether by digging through the numbers or safely investigating the bottom of a few glasses.
In investing, it's often good to stick to what you know. If you don't know Diageo, feel free to make yourself acquainted; it could lead to good returns of all sorts.
Disclosure: I have no positions in any stocks mentioned, and no plans to initiate any positions within the next 72 hours.