JinkoSolar Holding Co., Ltd. (NYSE:JKS), together with its subsidiaries, engages in designing, developing, producing, and marketing photovoltaic products in the People's Republic of China and internationally. It offers solar modules, solar cells, mono and multi crystalline silicon ingots and silicon wafers, recovered silicon materials, solar power project development and solar system integration services, and processing services. It is scheduled to report its Q1 2012 results on June 20, 2012, before the market opens.
Recent EPS Actuals vs. Estimates
The company has failed to meet analysts' estimates in the last two quarters. In the last quarter it reported ($2.58) loss per share, failing to meet analyst estimates of ($0.47) loss.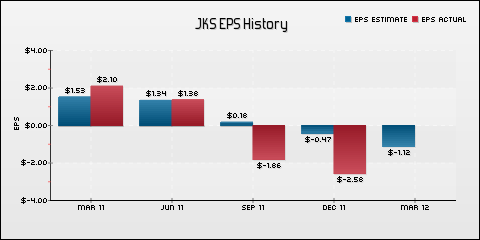 The consensus EPS is ($1.12) loss based on 4 analysts' estimates, down from $2.10 a year ago. Revenue estimates are $156.78M, down from $326.72M a year ago. The median target price by analysts for the stock is $6.00.
Average recommendation: Hold
Source: Marketwatch
Analyst Upgrades and Downgrades
On March 9, 2012, the company was upgraded from Sell to Hold at Auriga.
Key Metrics
Market Cap: 94.81M
52-week trading range: 3.62 - 27.30
Trailing P/E: N/A
Forward P/E: -
Price/Sales: 0.08
Price/Book: 0.21
PEG Ratio: -0.16
Total Debt: 595.26M
Annual dividend yield: N/A
Return on Equity: 9.81%
Return on Assets: 4.68%
Latest Developments
On May 21, 2012, JinkoSolar Holding Co., Ltd. announced it will provide modules for a 50 megawatt (MW) solar project operated by state-owned renewable energy development company GSHHSD in northwestern China.
On April 24, 2012, JinkoSolar Holding Co., Ltd. announced that JinkoSolar Co., Ltd., the company's wholly owned subsidiaries, successfully issued unsecured one-year short-term bonds with a principal amount of RMB300 million on April 23, 2012.
On February 14, 2012, JinkoSolar Holding Co., Ltd. announced the addition of an Australian subsidiary, JinkoSolar Australia Co; Ltd, based in Queensland, Australia . The newly opened office will serve as a sales and delivery hub and will house approximately 4-5 MW of modules for the region, supporting the company's growth in the photovoltaic industry.
Competitors
JinkoSolar Holding Co., Ltd. operates in Industrial Electrical Equipment industry. The company could be compared to Canadian Solar Inc. (NASDAQ:CSIQ), Hanwha SolarOne Co., Ltd (HSOL), JA Solar Holdings Co., Ltd. (NASDAQ:JASO), and ReneSola Ltd. (NYSE:SOL).
Below is a comparison of the most important ratios of these companies and the industry: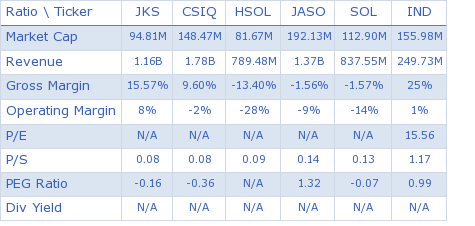 This is a comparison chart for stock price changes during the one-year period compared with S&P 500 index:
Click to enlarge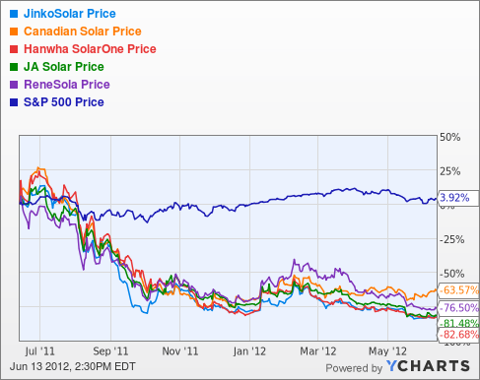 Click to enlarge
Competitors' Latest Development
Technical Insight
Disclosure: I have no positions in any stocks mentioned, and no plans to initiate any positions within the next 72 hours.