Statoil (NYSE:STO) pays a hefty dividend of 4%. This by itself might be enough to entice you to buy this stable large cap ($72.85B) oil and gas E & P company that has grown fantastically in the last year plus. Today's announcement of a large gas discovery in Block 2 license in Tanzania of 3 Tcf adds just adds to this picture. This discovery is 65% Statoil owned -- 35% by Exxon Mobil (NYSE:XOM) owned. The company expects about 60%-80% of the gas in block 2 to be recoverable. The companies also added 1 Tcf to estimate for the nearby Zafarani discovery, which had previously been estimated to contain 5 Tcf. This gives them about 9 Tcf in this vicinity. This meets the at least 8-10 Tcf requirement needed to make an LNG liquefaction export facility feasible. Plans for this have not yet been announced, but they will likely be forthcoming.
How is Statoil doing otherwise? Statoil reported Q1 2012 earnings a month or so ago. They were fantastic. Adjusted earnings after tax were NOK 16.8B versus NOK 11.9B in Q1 2011. This is at a time when most big oil companies are missing on earnings. To mention a few, Exxon Mobil , Hess (NYSE:HES), ConocoPhillips (NYSE:COP), and Marathon Oil (NYSE:MRO), all missed on earnings. Chevron's (NYSE:CVX) production fell. STO's actual net income did go down year over year, but this was largely due to the one time gain from the 40% Kai Kos Dehseh oil sands divestment in Q1 2011. Statoil grew production by 11%. Production in Q1 2012 was 2,193 mboe/d compared to 1,971 mboe/d in Q1 2011.
In its biggest recent move, STO entered into an agreement with Russian state-owned company OAO Rosneft to jointly explore and develop Russian offshore deposits in the Barents Sea and the Sea of Okhotsk. STO will hold a 33.33% interest in each activity. This covers 100,000 square kilometers of area. The deal also includes two onshore Russian assets -- West Siberia's North Komsomolskoye field and the Stavropol shale oil play in southwest Russia. The arctic region alone is expected to have a reserve potential of 51 billion tons of oil. The pact also grants Rosneft the right to gain shares in STO's exploration licenses and properties in the North Sea and the Norwegian zone of the Barents Sea.
On top of the huge Rosneft deal, STO has made many huge recent acquisitions and discoveries in the last year:
It acquired a 35% working interest in Hess' deepwater Tano/Cape Three Points license offshore Ghana. It also acquired a portion of Ghana National Petroleum Corp.'s interest for a total STO interest of 38.89%.
It bought Brigham Exploration (BEXP) for 4.4B -- a Bakken play. This has an estimated resource base of 300-500 million recoverable boe, and estimates for amounts of recoverable oil in the Bakken have been going up.
It announced the 250 million Boe Skugard oil discovery in the Barents Sea in April of 2011. Estimators think this field may hold up to 500 million of recoverable boe. Statoil is the operator of Skrugard with a 50% interest.
It announced in June 11 the discovery of the 150-300 million boe Peregrino South oil field discovery in offshore Brazil. Statoil is the operator with a 60% interest. The original recovery estimate was for 9%. However, STO later announced that it would use a water injection and rock compaction method to increase the recovery percentage to 20%. The field is now estimated to have reserves of 300-600 million barrels of recoverable oil in place.
It confirmed a new "giant" oil field discovery in the North Sea. In this two reservoir zones called the Aldous and the Avalsnes are believed to be communicating the petroleum. Combined the discovery should come to 500 million to 1.2 billion of recoverable boe. STO has a 40% interest. The entire field operated with Lundin Petroleum (OTCPK:LNDNY) was estimated to contain 1.7B-3.3B recoverable boe initally. Anders Holte said Lundin would probably lower the upper part of the Avaldsnes' range of estimates to 1.3B barrels from 1.8billion. Lundin said it was not lowering its bottom end of the range for the Avaldsnes section from 800 million barrels. Statoil said it was not lowering its estimates for the section of the Aldous/Avaldsnes play that it operates.
It announced the discovery of a second Barents Sea find on Jan. 12, 2012. This one has 200-300 million recoverable boe. STO has a 50% interest.
It announced that its Snoehvit offshore gas field in the Arctic contains 11% more in gas reserves than originally thought (20 billion cubic meters more).
It signed an a memorandum of understanding to explore a promising prospect, the Indra (and around there), in offshore Brazil with Petrobras (NYSE:PBR) and to share technology. This agreement should help both companies.
For the next year or so, the world economic environment is very uncertain. In that sense another big plus for STO is that it pays a 3.98% dividend. This should help any investor in this strong major oil company weather any tough times ahead. STO should provided great stock price appreciation in the longer 3 to 5 year time frame on top of the 3.98% dividend. For a lazy investor, who does not like to worry, STO may be a stock for you. The outlook is indeed rosy, excluding the current world economic slowdown.
David Kostin, Goldman Sach's Chief Forecaster, has a 3 month target of 1275 on the S&P500 and an end of year 2012 target of 1250 on the S&P500. It may pay to be careful. Even given the most recent STO announcement, the EU is on the brink of disaster. The Greek elections this weekend are the nearest term threat. However, the Spanish 10 year bond yield of 6.808% and the Italian 10 year bond yield of 6.017% mean that serious trouble for these top ten world economies is just a step away. The EU has already given Spain a 100B Euro bailout for its banks. It has many more problems with both high debt and official unemployment of nearly 25%. You may wish to average in. The market may have more downside to come. Further the EU situation, the US economy, and the Chinese economy could all turn out to be more troubled that many are at this time estimating. A conservative strategy is called for in this environment, STO fits this strategy. Plus STO's main product, oil, will provide a good hedge against longer term inflation worries. Notably the FY2012 and FY2013 average analysts' EPS estimates are little changed from three months ago even in the face of the roughly 20% fall in the price of oil recently.
The two year chart of STO provides technical direction for this trade.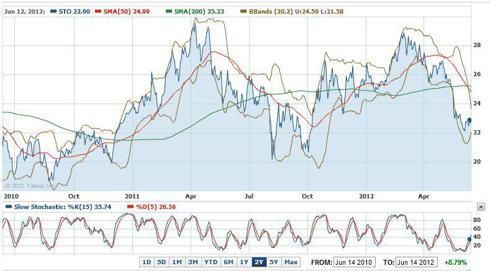 The slow stochastic sub chart shows that STO is near oversold levels. It could well head upward from here. It could possibly head down to approximately $20 per share. There is strong support there. On the upside there is not a limit. The recent discoveries will continue to feed into the bottom line. STO should be a continuous growth story, especially after the Russian development deal. The long term secular growth story should continue to exist for oil. I seldom feel this good about a stock recommendation. Few companies ever look this good.
Good Luck Trading.
Disclosure: I have no positions in any stocks mentioned, but may initiate a long position in STO over the next 72 hours.