Burger King (BKC) is midway through a revitalizing transition and appears to have strong momentum. After falling miserably behind competitors in the late 1990's the company was taken private and given new management and a new growth strategy. The stock was launched in early 2006 and quickly saw its shares fall from the initial trading range. But after hitting a low in August, the stock began a run that more than doubled the value of the company. Since the beginning of this year, the stock has pulled back on concerns of a weakening consumer and in conjunction with broad markdowns in equity indices. The intrinsic value, however, appears to be building and will likely drive the stock higher in future months.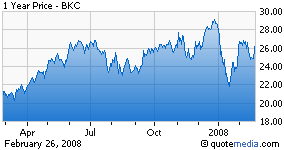 While largely considered an American phenomenon, the burger industry has expanded to cover a large geographic compilation of countries. While Burger King's largest rival McDonalds (NYSE:MCD) has roughly 16,000 locations outside the US, BKC has built its international store count to 4,000. This leaves ample room to continue to expand simply by mimicking its competitor without running out of new potential locations.
At the same time, Burger King has been successful on the home front in making its restaurants more attractive to customers. An initiative to remodel a number of aging stores has been very successful in re-invigorating sales levels at each store and so the company is planning to leverage this success on a growing number of other eligible locations. Corporate strategists have also mandated new store hours requiring all franchised stores to stay open later into the night. The addition of a breakfast menu has added revenue during times that locations had previously sat idle. The new initiatives have produced impressive increases in top line revenues.
As revenues increase from International expansion and rising same store sales domestically, management is also hard at work to address cost issues and thus allow more of the incremental sales dollars fall to the bottom line. A new broiler model has been adopted and will be in all stores by 2010. The appliance consumes significantly less power, thus cutting down on one of the larger fixed costs associated with each store. The added leverage has the company looking for long term revenue growth of 6-7%, EBITDA growth of 10-12% and net income growth of roughly 20%. This is an ambitious growth plan but could add significantly to shareholder value.
Speaking of shareholders, it should be noted that private equity firms still own 44% of the total outstanding shares. Bearish traders often point to the overhang as investors likely have some reservations about the possibility of these shares being dumped on the market. Furthermore, the company was loaded down with debt when it was brought back to market and has only recently gotten the debt to a level where it is much more manageable. Interest expense is a significant cost, but it appears now that interest expense is becoming smaller as a percentage of revenue, the company is looking for other ways to spend its robust free cash flow. While debt repayment will still be a top priority, management is also exploring ways to use that cash in additional capacities. The board has authorized $100m for share repurchases, and a good bit of capital will be spent on the remodeling of older stores. Both uses of cash should add to the value for existing shareholders.
While timing in this market remains the key, Burger King likely deserves a spot on the roster as a solid potential long position. The cash flow is strong and while high-end restaurants are seeing sales drop off, consumers are likely trading down to lower priced fast food chains. The company has some pricing power in its pocket that it has decided not to use at this time until the consumer picture becomes a bit more clear. Management has made skillful decisions to turn the company from a floundering mess into a chain to contend with. I have confidence that there will be some good trading opportunities in Burger King this year and will keep my sights on the pattern it is developing.