You've probably heard the expression that stocks may take the stairs to the upside, but take the elevator down.
If so, they could be riding down in an Otis elevator made by United Technologies (NYSE:UTX).
In fact, the company makes a lot of things that make stuff go up and down, like a whole $27 billion aerospace division, for example, which represents about half the company.
But one thing that doesn't seem to go down is UTX's dividend. It's been rising pretty rapidly over the past decade and was just bumped up another 11% to an expected annual payout of $2.14 - up from $1.92 per year.
Given the increase in dividend, here are new yield levels to follow for the stock, along with a comparison of where those similar yield levels were in the past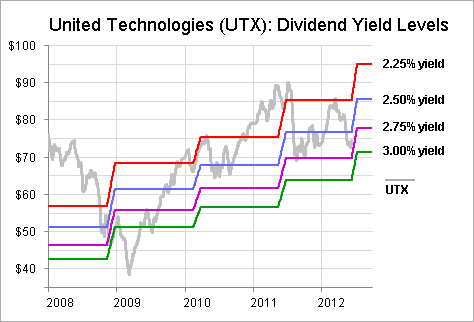 At the market close on June 14 of $74.14, the stock yielded 2.59% at the old payment. But with the new payment, the yield would be 2.89%.
The chart shows that the stock has not traded to offer a yield of much more than 2.75% since 2009, so if the stock were to trade down to around $71.34, that would represent a 3% yield at the new dividend payment.
Dividend doubled over 6 years
United Technologies now pays double what it did back in 2006, and triple the payments it made in 2003. That's a pretty good track record. Here's a view of the dividend and payout ratio over the past 9 years.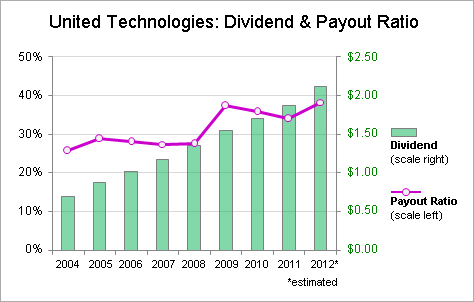 While the dividend may be on the way up, the stock's an industrial, so of course it fluctuates - moving up and down like an Otis escalator.
Speaking of Otis, this division happens to represent a good chunk of the company's operating profit as you can see on this chart of the revenues and operating profit by division.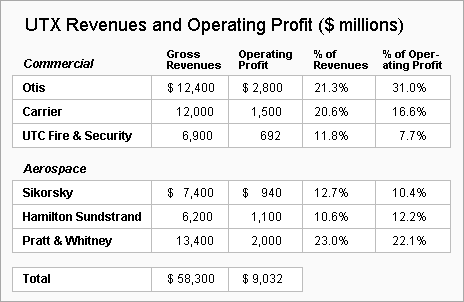 Otis brings in more than 21% of the revenues and 31% of the operating profit. From the company's annual report
Otis plans to open a number of new factories in 2012 to meet growing demand for its products. They include a 215,000-square-foot facility in São Bernardo do Campo, Brazil; the expansion of the Bangalore factory in India; and a factory in Chongqing, China. The company also is opening a 423,000-square-foot facility in Florence, S.C., which will become the manufacturing center for its U.S. and Canadian operations.
I guess even when there's a recession, elevator and escalator sales still stay quite strong. And I'm glad that while the company has manufacturing centers worldwide, the company is opening a new one in the United States. That can only bring some upside to the country's employment picture.
Disclosure: I have no positions in any stocks mentioned, and no plans to initiate any positions within the next 72 hours.