With the April 25, 2012 closing of the acquisition of El Paso Corporation by Kinder Morgan Inc. (NYSE:KMI), the general partner interest and rights of El Paso Pipeline Partners L.P. (NYSE:EPB) now belong to Kinder Morgan. Both El Paso Pipeline Partners and Kinder Morgan's existing MLP - Kinder Morgan Energy Partners (NYSE:KMP) - focus on the natural gas midstream markets.
Here is a comparison of the two MLPs in which Kinder Morgan owns the general partner interests:
| Company | Market Cap | Yield | Div Growth | 3-yr Change |
| --- | --- | --- | --- | --- |
| El Paso Pipeline Partners | $7.6 bil. | 6.27% | 57% | +72.7% |
| Kinder Morgan Energy Partners | $25.65 bil. | 6.36% | 14% | +42.2% |
From these results, you can see that El Paso Pipeline Partners has been the better investment over the last three years. The nicely growing dividend has pushed the share price to increase by a larger amount than the share value growth of Kinder Morgan Energy Partners. If you stretch the look back to five years, the results are much closer between the two MLPs.
The question going forward will be how will Kinder Morgan allocate new projects and acquisitions between the two MLP companies. If you can make sense of the company's asset map, it appears the El Paso Pipeline Partners assets mostly complement the pipelines and facilities owned by Kinder Morgan Energy Partners. One recent piece of positive news was the confirmation of the sale/dropdown of the Cheyenne Plains Pipeline and the remaining interest of the Colorado Interstate Gas Company from El Paso Corp to El Paso Pipeline Partners. The sale was announced one week before the completion of the Kinder Morgan purchase of El Paso Corp.
The investment consideration concerning El Paso Pipeline Partners is the lack of forward visibility for continued growth. Not much has happened since the October 2011 announcement of the Kinder Morgan deal and it could be several more quarters before the new general partner decides how to manage/integrate the two MLP pipeline companies. Investors who already own units of EPB should just hang on and continue to collect dividends. Investors looking for new money MLP investment ideas should probably wait for some more information from Kinder Morgan or look at other companies such as ONEOK Partners L.P. (NYSE:OKS). Of course, as news comes up concerning K-M's plans for El Paso Pipeline Partners, the investment potential will be covered here.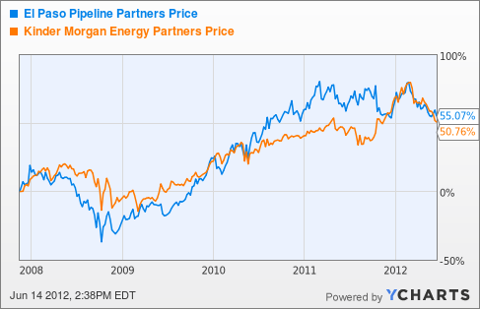 Recommended additional reading: Kinder Morgan General Partners Shares Poised For Rapid Dividend Growth
Disclosure: I have no positions in any stocks mentioned, and no plans to initiate any positions within the next 72 hours.