It is interesting to see what happens to growth stocks when these companies lose momentum. While the S&P 500 and its tracking exchange traded fund SPY have rallied nearly 20% from the market lows of last year, stocks such as Apple (NASDAQ:AAPL) have rallied over 30% in the past year. However, the last month has been brutal for most of the major indexes.
The worst performing indexes during the last several months have been the European and Chinese markets. With Europe slowing dramatically, the weakness in the eurozone, China's biggest export market, has weighed heavily on the world's second biggest economy. Chinese exports have also continued to weaken, while the country continues to face significant problems dealing with the massive overbuilt real estate and construction industry in the country.
Given the significant underperformance of many leading foreign markets in countries such as Germany and China, and these market's tracking exchange traded funds, the EWG and FXI, I think its interesting to see if some of the leading companies in these country's indexes are offering value today. By far, the most talked about Chinese company is Baidu (NASDAQ:BIDU).
While I have penned several bullish articles on Baidu over the last year, I am now very bearish on this company, and I think management's continual failure to take market share in the mobile space or monetize the company's existing mobile space market share is likely to significantly weigh on the company's growth prospects in the near term.
Today, Baidu is a nearly $40 billion dollar company trading at 35x trailing earnings, 18x an average estimate of next year's likely earnings. The company has nearly 80% of the online search space today in China, nearly 35% market share in the mobile space, and the company has consistently grown its revenues at over 50% a year the last several years.
Still, while Baidu's forward multiple looks cheap, there are several strong warning signs that this company's growth rate is likely to slow dramatically in the next couple years.
First, the recent announcement that Apple will be integrating Baidu's search engine platform into its new smartphone, as well as Baidu's recent announcement that the company will be market its own new smartphone, are unlikely to significant boost the company's revenues. Apple has doubled its market share in China over the last year, selling nearly 35 million iPhones in the world's second largest economy, a 88% increase from the year before.
While I was originally bullish on the potential of Apple to Baidu with its tablet, Apple's most successful recent product launch in China has been the iPhone, and Baidu's strategy for the mobile space seems limited. Just because Apple is integrating Baidu's search engine platform into the company's new smartphone launch in China, does not necessarily mean Baidu's revenues will get a significant boost.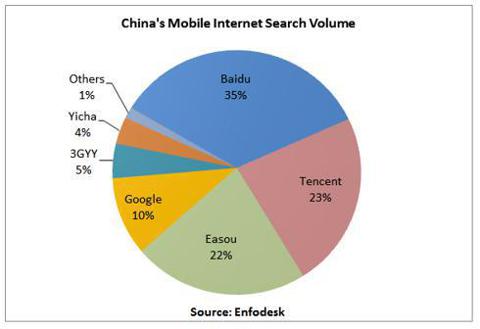 Click to enlarge
As I've wrote in previous articles on the Chinese mobile space, Easou ran China's first mobile search application. The company gets nearly 70% of its revenues from advertising, and it works with thousands of small and medium sized businesses. Tencent (OTCPK:TCEHY) is the largest instant messaging service used in China, and the company's chat rooms, avatars, and games make its services uniquely appealing for social networking and younger users.
Baidu isn't likely to take market share from a company specializing in advertising for small to medium size companies, since the company's search platform is designed for more expensive, larger scale advertising. Also, Baidu offers very little in social networking compared to companies such as Tencent, so it's unlikely that a simply endorsement from Apple will increase Baidu's appeal to users who are accustomed to Tencent's user instant messaging platform.
This is also exactly why I am bearish on Baidu's attempt to market the company's own smartphone, which seems like a poorly conceived attempt to make-up for the repeated strategic failures the company has had in trying to develop new and more specialized mobile search options. Baidu is also basically giving away this phone to attempt to take market share in the mobile space, similar to Google's (NASDAQ:GOOG), strategy with the Android phones.
Internet access is also very slow in China, making it difficult to access websites from smartphones, and it is unlikely that Baidu will be able to get significant click rates from the company's advertisements.
Also, while Baidu's online advertising revenue has grown significantly in the past couple years, it is likely that Baidu's online advertising revenue will grow at a slower rate for several reasons. Online advertising in China has grown by over 30% a year in the past, while in the last two years, online advertising has grown by less than 20% a year.
Baidu has also had the very unique opportunity to dramatically increase the company's market share in the online search space. In 2005, Baidu had less than 50% of the search engine market in China, with Google having nearly 34% of the search space, and Yahoo (NASDAQ:YHOO), Sohu (NASDAQ:SOHU), Sina (NASDAQ:SINA), having most of the remaining nearly 20% of this market. Today, Baidu's search engine market share is 80%, while Google's market share has dropped to around 15%.
To conclude, while Baidu has an extremely strong market share in the search space today, the company has nearly doubled its market share in the last six years when online advertising revenue was growing at 30% a year. Now that online advertising growth rates are slowing, and Baidu has around 80% of the search engine market in China, it is likely the company's growth rate will slow dramatically if management cannot significant increase the company's market share in the mobile space in the next several years.
Baidu trades today at around $117 a share, at 35x trailing earnings and nearly 18x average estimates for next year's likely earnings. However, the company recently guided to a slowdown in online advertising growth, and estimates have been consistently falling for the last several months. The fact that the five-year analyst growth estimate for this company is over 45% also suggests that the analyst community has very limited visibility on the company's long-term earnings, since Baidu grew its revenues at around 50% a year when the company was dramatically increasing its market share in the search engine space, and growth in the search engine market was much stronger than it is today as well.
If Baidu's growth rate slows to round 20% a year, after the company has consistently grown its revenues at 50% over the last several years, it is likely the company will see continued deceleration in its growth rate - therefore, a multiple of 15x next year's likely earnings seems appropriate. This would make Baidu a $90-$100 stock.
Disclosure: I have no positions in any stocks mentioned, and no plans to initiate any positions within the next 72 hours.