The market should continue to be volatile as Europe works through its massive debt issues. I can easily see scenarios where the market has major corrections and rallies only to end the year close to where we are now. One of the strategies I am using to leverage this volatility to my advantage and get decent returns in this environment is using put options. Specifically, I am selling slightly out of the money puts on stocks that have rock bottom valuations and solid technical support. One stock that meets that criteria and provides a great option return is Blackstone (NYSE:BX).
Option Strategy: Sell the December 2012 12 puts on BX for $1.50.
Outcome 1: Blackstones stays above $12 at expiration of option on December 22nd and the investor picks up the $1.50 premium for an annual return of over 24%.
Outcome 2: BX dips below $12 and the stock gets "put" to the investor for a cost adjusted $10.50 ($12 - $1.50).
4 reasons Blackstone is unlikely to go below $12 a share for any length of time:
Blackstone sells for just 6 times forward earnings, a steep discount to its historical average (16.9).
The stock should pay out at least five percent this year, which should put a nice floor under the stock.
The 13 analysts that cover the stock have a $18 median price target on the stock. Barclays also just upgraded to an "outperform" rating as well.
The stock has good technical support at these levels (See Chart).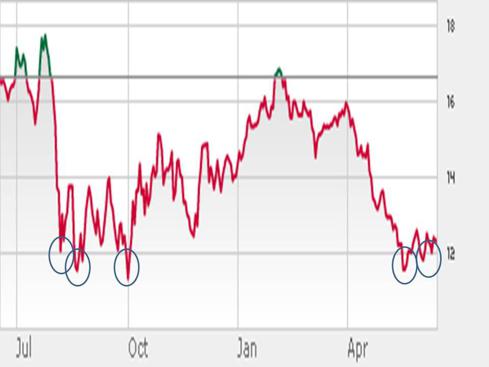 Click to enlarge
(Click to enlarge)
Disclosure: I am long BX.