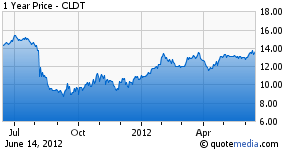 It has been a turbulent second quarter for equity markets. Given the ongoing deterioration in Europe, I expect this volatility to continue at least through summer. One of the "rocks" in my portfolio that I continue to add to on dips is Chatham Lodging Trust (NYSE:CLDT) as the trends in its industry continue to improve, insiders continue to snap up shares and its 6% dividend provides a nice floor on the stock.
Positive catalysts for CLDT
Insiders continue to buy shares. They have added another 12,000 shares since I last wrote about this company in early May.
Earnings estimates for FY2012 and FY2013 have risen over the last two months in the face of the overall market decline.
The outlook for the industry continues to improve. From a recent Credit Suisse report in late May. "The US lodging cycle recovery continues to play out, and 1Q12 supported our view that the industry is still in the middle innings of the cycle. RevPAR growth continues to shift towards one driven by rate, a positive. Supply growth in the U.S. remains low, with no signs of acceleration."
Chatham Lodging Trust is a self-advised REIT that was organized to invest in upscale extended-stay hotels and premium-branded, select-service hotels. The company currently owns 18 hotels with an aggregate of 2,414 rooms/suites in 10 states and the District of Columbia and holds a minority investment in a joint venture that owns 64 hotels with 8,329 rooms/suites.
4 reasons CLDT continues to provide solid value at under $14 a share:
After the last distribution increase, the company now yields a robust 6%.
The stock is cheap at 88% of book value, especially considering the company has completely renovated the majority of hotels it owns.
The four analysts that cover the stock have a median price target of $17 a share on CLDT.
M&A activity is picking up in the sector. Blackstone (NYSE:BX) just completed a $1.9B buyout of Accor's Motel 6 division. Although I don't expect Chatham's management to desire a buyout, this increasing activity should raise the value of hotel properties which should help the value investors assign to Chatham's assets and stock price.