Stratasys Inc. (NASDAQ:SSYS) plunged nearly 18% on disappointing earnings and guidance for 2008, making the stock a sell for short-term investors and a buy for long-term optimists. Fourth quarter earnings grew an especially disappointing 11%, bringing full-year earnings growth down to 22%. Guidance reflects the company's obvious uncertainty about the world economy and capital spending.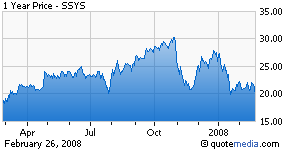 SSYS management said its earnings growth in 2008 will be somewhere between 16.8% and 28.8%. If SSYS achieves the low end of its range, or 77 cents a share, its forward PE is 22.6. If it hits the high end, or 85 cents, it's PE is 20.48. This means its PEG ratio is somewhere between a cheap 0.97 and a relatively attractive 1.58, based on the latest price of $17.41, which is down 44.6% from its 52-week high of $31.45. Point and figure charts suggest the stock is headed for $9.
In its press release, SSYS said:
"Revenue from our core businesses grew impressively during the fourth quarter," said Scott Crump, chairman and chief executive officer of Stratasys. "However, our operating profit was impacted by higher operating expenses, as well as sales and product mix shifts. The higher operating costs were mostly related to a short-term increase in commission expenses, as well as the acceleration of new product and market development programs, which will benefit 2008 and beyond."

"We expect our new product initiatives will generate positive results in both our Dimension 3D printer and high-end FDM system businesses in the near future. The impact has already been dramatic for our high-end systems, as system revenue for the group increased by 25% during the fourth quarter versus last year. This growth was a result of improved marketing focus on proprietary products, as well as the introduction of two new systems in 2007, the FDM 200mc and 400mc.

"Building on these successes, we made a significant new high-end product introduction in December, with the introduction of the FDM 900mc. The 900mc represents the most advanced FDM system in our company's history, exhibiting significant improvements in speed, build accuracy and part quality. Most noticeable is the new system's size, which has a build chamber approximately 9X larger than that of the 400mc, and can build parts that are over four and one-half feet long. We began commercial production of the 900mc during the first quarter of 2008 of this year, and plan to gradually ramp to full production by the end of the third quarter.

"We began 2008 with four new high-end systems, the FDM 200mc, 360mc, 400mc and 900mc. The products have all been well received, and we have established a strong sales pipeline. Our high-end system initiatives represent a strategy to solidify our value proposition for prototype applications, but more importantly target incremental opportunities for the manufacture of end use parts, or direct digital manufacturing [DDM]. The 900mc is our first system that directly targets these types of applications, and we are excited about the new system's potential. We are becoming increasingly confident that DDM applications can provide incremental growth opportunities for Stratasys.

"Dimension 3D printer revenue increased by 21% during the fourth quarter versus last year. The Dimension Elite, which was introduced in January of 2007, continued to perform above our expectations, remaining one of our best-selling 3D printers in the fourth quarter. This higher-priced system has proven the importance of offering 3D printers with high functionality, in addition to an attractive price. The Elite provides users with our hands-free support removal option, Waterworks, as well a premium material, ABSplus, which produces stronger, functional models that exhibit finer feature detail and improved surface finish.

"Following this success, today we launched two new 3D printers that incorporate the same premium ABSplus material found only previously on the Dimension Elite. The new systems, the Dimension 1200es BST and 1200es SST, will replace the existing Dimension 1200 line, and will be offered only with the ABSplus material. Given the added functionality of ABSplus, which is up to 40% stronger than our standard ABS, we are introducing the new systems at a significant price premium to our legacy Dimension 1200 systems. Customers that have legacy 1200 systems will be offered an enhancement package to upgrade their existing 1200 to a 1200es for $5,000."
And as to the company's opportunities, the news release said:
With over 2,000 units shipped in 2007, we have now shipped more than 5,000 units over the past three years, exceeding the combined shipments of the previous ten-years. We believe the total market potential is for 500,000 systems, by targeting the 5 million 3D CAD seats that currently exist worldwide. In addition to this large target market, it's important to note that a significant growth opportunity still exists in 3D CAD, as we estimate that less than half the mechanical designers and engineers that exist worldwide currently utilizing the modeling software.

The rapid expansion in our installed base is contributing to strong growth in our high-margin proprietary consumables revenue, which grew by 27% during the fourth quarter compared to last year. Consumables revenue will remain a central part of our growth strategy considering our estimate of the market's potential and our expectation of continued strong growth in system sales. We are planning for 4,000 units per year in the near future, with a longer-term vision of 13,000 units per year.
Disclosure: I've owned SSYS for some time and may add to my holdings at this level, or, more likely, when the stock bottoms out.