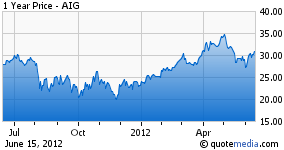 American International Group, Inc. (NYSE:AIG) shares have been in a steady uptrend for most of 2012. The stock was trading around $23 in January, but it has rallied to over $30 in just a few months, even as the stock market has seen a sharp correction. "Mad Money's" Jim Cramer has been touting the positives at the company and he has called the stock a buy. However, investors getting in now might be late to the party. Here are reasons why investors might want to consider taking profits in AIG, or at least waiting for what could be a meaningful pullback before buying the stock:
1. AIG shares have had a huge run, up about 40% in 2012. That is particularly impressive when you consider that the market has recently given up the gains made this year, and many individual stocks are now down. At over $30 per share, AIG is just not that cheap. It trades at about 8 times earnings, but a number of companies in the insurance and financial sector trade for just 5 or 6 times earnings. Just as an example, MetLife, Inc. (NYSE:MET) is expected to earn considerably more (see below) this year than AIG, and yet it trades below AIG's share price, and for less than 6 times earnings. Furthermore, AIG does not pay a dividend, while shareholders of MetLife get paid 2.5%, while they wait for higher prices.
2. Timing is everything. While it obviously made sense to buy AIG in the very low $20 range a few months ago, the prospects for gains is quite different at over $30. This is even more important because of what is going on with the European debt crisis. AIG shares were one of the worst-performing stocks during the 2008 financial crisis, and with another potential crisis looming in Europe that could create contagion issues globally, this hardly seems like the time to be loading up on AIG. Furthermore, the United States has debt issues which could become increasingly troublesome later this year, as the debt ceiling is reached and the country faces a potential fiscal cliff.
3. Government ownership in AIG remains very high, and this is likely to keep a lid on the stock. Even after recent sales, the U.S. Government has a stake of nearly 60% in the company. Some analysts believe the government is still helping AIG through a "stealth bailout" which could be masking weakness in certain areas. The company received favorable tax waivers which helped to boost income in recent quarters. Considering that the stock has an extremely high level of government ownership, and that it pays no dividend, and that it trades at a premium to other insurance companies, it hardly seems like a screaming buy now. Add in the fact that the world could be poised for another significant financial crisis, and it's easy to see why taking profits after a big run in 2012, might be very smart.
Key Data Points For American International Group From Yahoo Finance:
Current Share Price: $30.30
52-Week Range: $19.18 to $35.05
Dividend: none
2012 Earnings Estimate: $3.70 per share
2013 Earnings Estimate: $3.17 per share
P/E Ratio: about 8 times earnings
Key Data Points For MetLife, Inc. From Yahoo Finance:
Current Share Price: $29.32
52-Week Range: $25.61 to $44.56
Dividend: 74 cents per share which yields 2.5%
2012 Earnings Estimate: $5.22 per share
2013 Earnings Estimate: $5.62 per share
P/E Ratio: about 6 times earnings
Data is sourced from Yahoo Finance. No guarantees or representations are made. Please consult a financial advisor before making investments.
Disclosure: I have no positions in any stocks mentioned, and no plans to initiate any positions within the next 72 hours.