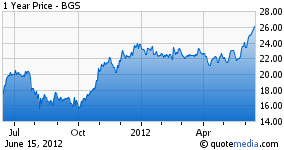 Less than 2 weeks ago B&G Foods (NYSE:BGS) was trading at $23.35 and was recommended on this site for its yield of more than 4.6% and its potential growth opportunities. The shares have closed higher for eight consecutive days since then. on June 14th B&G closed at $26.11, and, as a consequence, the yield has declined to just over 4.1%. Is it still a buy?
On June 6th, B&G's CEO David Wenner and CFO Bob Cantwell presented at the Piper Jaffray Consumer Conference providing insight into the company's guidance and expected performance and should help investors decide if B&G is still an appropriate investment. Cantwell noted that the cash flow before capital expenditures, cash taxes, interest and dividends was projected at $166-$170 million. These four items were, respectively, expected to use $12, $22, $43 and $52 million of that cash, leaving $40 million to reduce debt. Why is this important to investors?
B&G has been able to significantly grow earnings by acquiring shelf-stable food brands from larger competitors that were immediately accretive to earnings. These brands, sometimes referred to as orphan brands, were often neglected at the larger companies because they were considered too small to be allocated limited marketing, development and management resources. To fund the acquisitions, B&G would take on debt.
The latest significant acquisition of Culver Specialty Brands from Unilever NV (NYSE:UN) for $325 million, which was completed in January, increased the company's debt leverage to 4.3x. The acquisition, while immediately accretive to earnings, placed debt at a level that would decrease its ability to take advantage of future opportunities. While discussing the company's leverage, Cantwell noted that using the $40 million of expected cash flow to reduce debt would bring the company's leverage below 4x by year end. This is significant because it will allow the company to take advantage of another CSB sized opportunity.
One concern that surfaced during the first quarter earnings conference call was a slowdown in sales of certain products. Wenner had linked the lack of growth to the unusually warm weather over the winter rather than to anything specific to B&G. At the Piper Jaffray conference he noted that while Cream Of Wheat sales had declined in Q1, the company had actually increased market share in the category. Sales in the current quarter appeared to confirm that the slowdown was only weather related.
Acquisition Opportunities
While the company has been able to revive and grow the brands it acquires, the dividend increases have been fueled by accretive acquisitions. The company's reputation and ability to close deals quickly makes it an attractive buyer when others are looking to sell. At the conference Wenner noted that it has become more difficult to find brands that meet the company's requirements. He specifically cited Kraft (KFT) as one company not looking to divest brands at the current time. Kraft management has set a goal to grow organically by 5%, and divesting brands makes that significantly more difficult.
The Dividend
The dividend is reasonably well covered and the yield at 4.1% still remains attractive compared to its competitors. The J. M. Smucker (NYSE:SJM) dividend yield is at 2.5%, Kraft at 3.0%, Kellogg (NYSE:K) at 3.6%, General Mills (NYSE:GIS) at 3.2% and PepsiCo (NYSE:PEP) at 3.1%. However, with the B&G share price increase and the resultant decline in the dividend yield, that advantage has narrowed.
Summary
B&G management considers the company to be shareholder friendly and makes returning capital through an attractive dividend a top priority. The most recent increase in the dividend was funded by the accretive CSB acquisition, and disclosures by Cantwell that the company will be in a position to make another acquisition of this size by year end is welcome news to investors.
Some conservative investors will be concerned by the relatively high debt levels, and the decrease in the comparative dividend advantage will provide less of an incentive to take on risk. I am long B&G Foods and will continue to hold the shares. However, at the current prices, I will not be adding to the position at this time other than through dividend re-investment.