What has been happening in tech lately? More and more tech companies are looking to start paying dividends for longer than I can remember. Earlier this year Apple (NASDAQ:AAPL) announced it will start paying a dividend (1.9% yield based on current price) and just recently Dell (NASDAQ:DELL) announced it will start paying a dividend as well (2.7% yield). While Dell and Apple's yields are relatively low, there are some other, higher-yielding stocks within the technology sector including CA, Inc. (NASDAQ:CA)
I. COMPANY OVERVIEW
Per Google Finance:
CA, Inc. is an independent enterprise information technology (NYSE:IT) management software and solutions company. CA develops and delivers software and services. The Company operates in three segments: mainframe solutions, enterprise solutions and services. The Company addresses components of the computing environment, including people, information, processes, systems, networks, applications and databases, across hardware and software platforms and programs. It offers a portfolio of software solutions, including mainframe; service assurance; security (identity and access management); service and portfolio management, and virtualization and service automation. It delivers its products using software-as-a-service (SAAS). In August 2011, the Company acquired Interactive TKO, Inc. and Watchmouse B.V.
II. CAPITALIZATION
CA is another over-equitized business with approximately 2x as much cash as debt. On a gross basis, the company has a bit less than a turn of leverage. Given the company's current capital structure, it should have adequate financial flexibility to pursue acquisitions or continue to raise the dividend without much reliance on the capital markets. From an Enterprise Value perspective, the company is fairly cheap on an absolute basis trading at only 6.2x TTM EBITDA. Compared with some of its peers, it also looks cheap with the competition: Oracle (NASDAQ:ORCL) at 7.6x, BMC Software (NASDAQ:BMC) at 9.1x, Microsoft (NASDAQ:MSFT) at 6.5x, and Opnet Technologies (NASDAQ:OPNT) at 13.0x.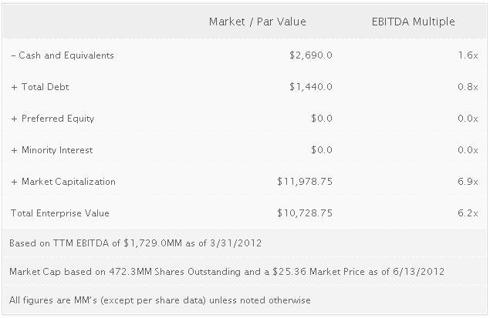 III. HISTORICAL OPERATING RESULTS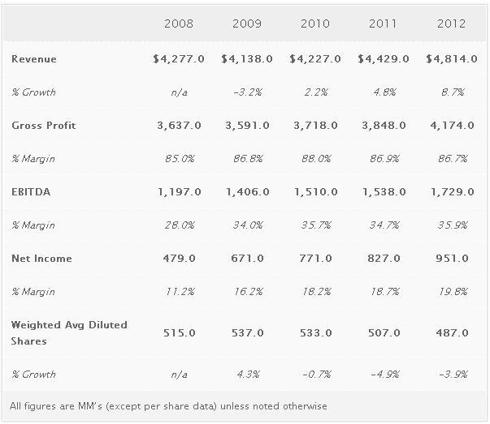 CA's top line performance trends have been positive over the past five years with revenue growing from $4.3B to $4.8B with the company only experiencing a revenue decline of 3.2% in 2009. Even more impressive is the EBITDA growth from $1.2B to $1.7B with no year-over-year declines in performance.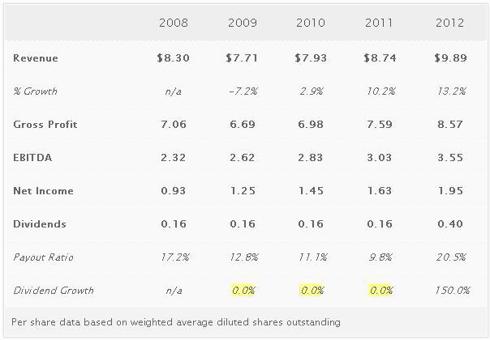 Since the end of 2008, the company has been actively pursuing a stock buyback program that has reduced the number of shares outstanding from 515MM to 487MM over the past five years. Performance on a per share basis has the compounding effect of improved company performance and reduced shares outstanding resulting in EBITDA per share growth from $2.32 to $3.55 (a 53% increase compared with a 44% increase at the company level). The company's dividends per share have not grown until recently when there were two dividend increases in FYE 2012 (from $0.04 quarterly to $0.05 quarterly, then to $0.25 quarterly - the current run rate).
IV. PROJECTIONS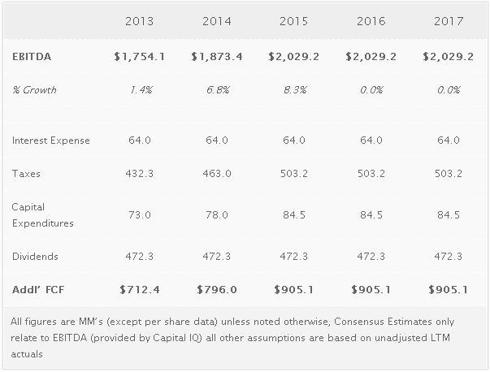 The consensus estimates for CA are reasonably achievable with a projected growth rate of ~2-8% through 2015 at the EBITDA line (CE not available for 2017 and 2018). When you factor in inflation and continued trend toward increased levels of technology, these estimates are well within the company's reach. Under the consensus case, the company is projected to have significant additional free cash flow available to reinvest in the business, repurchase shares (always assumed for ease in modeling) or increase the dividend.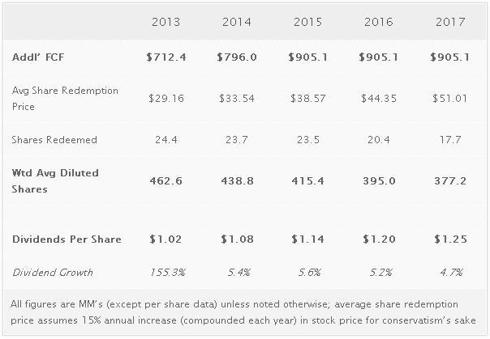 *Note: the 155% dividend growth in 2013 is due (mostly) to the annualization of the current $0.25 quarterly dividend that is not fully reflected in FYE 2012 numbers.
The share redemptions are assumed to be at a 15% annually compounded price. I believe that this is structured very conservatively. If the weighted average redemption price exceeded this threshold, the investor would have ample opportunity and time to re-evaluate the position and consider selling off the position for a gain from today's price. The company's share redemptions would allow for an increase of more than 4% annually in the dividend by the share redemptions alone. Additionally, the company's payout ratio would decline as the dollar amount of dividends paid would not be increasing while the company earnings (using EBITDA as a proxy) would be increasing.
If the company performs inline with the consensus estimates and pays dividends/redeems shares as outlined above, the company would achieve the IRR/cash on cash returns below based on the outlined Terminal EBITDA Multiples.

VI. CONCLUSION
As a dividend growth investor, you need to take the good with the bad as it relates to CA. The company's commitment to dividend growth remains to be demonstrated (like it is at many other companies in a typical dividend growth investor's portfolio). That said, the yield of ~4%, a payout ratio of ~50% (Pro Forma LTM numbers), and a reasonable valuation (6.2x LTM EBITDA) has earned CA a small holding within my dividend portfolio. Over the long haul, I think we'll see that even though the company has a 'utility' level yield, it will significantly outgrow utilities even if management is not focused on divided growth as a priority in the near term.