Watching SodaStream (NASDAQ:SODA) on a daily basis can be very nerve-wracking. Every day for the last few weeks the stock has jumped in the first hour of trading, fallen to even or red within the next three hours and staged a late-day rally as we head toward the close. Of course, there are non-compliant days to throw off trend traders who see the pattern, but for the most part we have seen the same dance since the stock finally busted through the 50-DMA at $33.36.
Click to enlarge image.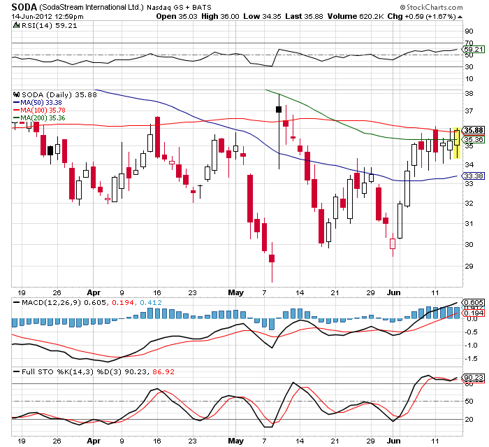 As it stands now, $36 and the 200-DMA at $35.36 is the ceiling du jour, and we are being bounced off of it over and over as the shorts battle the longs over this latest technical boundary. I knew that the first attempt would be unsuccessful when it spiked above the 200-DMA on June 7 and we predictably bounced back down to sub-$34 on the initial rejection.
The past few days have finally overcome the 200-DMA obstacle and now SodaStream longs are faced with stiff resistance at the psychological barrier at $36. The trading range for the past few months has been $32-$36, so with over 70% of the float being held short there are likely a large portion of shorts who are going to defend $36 with a vengeance.
Even if in the near term they are able to defend $36 successfully, I fully expect SodaStream to rally strongly in front of its 2Q earnings. While I can't speak for its performance after reporting earnings, with the exception of the Green Mountain Coffee Roasters (NASDAQ:GMCR) report overshadowing Q1, SodaStream has a strong tendency to run up and blow past shorty prior to the report. I expect we will see this again when the company reports in August, and I want to make sure everyone is prepared to get their seat on the rocket ship.
Stoppable Juggernauts
SodaStream has all sorts of risk factors from its European exposure (during a recession/depression) to its main production being located in Israel and the ever-present fad calls. Anyone considering the name needs to understand these risks as well as the efforts the company is undertaking to alleviate each of them.
While it is true that the European markets are currently the company's largest, the large majority of this exposure is in the Baltic countries as well as Germany and the U.K. SodaStream has made some inroads in Spain and France, but for the most part it does not have massive exposure to the PIIGS and is firmly entrenched in Europe's strongest markets. All of this is forgetting the fact that the U.S. market is growing more than 100% per year and is quickly becoming SodaStream's largest market. Add in the Japan expansion as well as the now-approved move into Brazil and you have a company that is diversifying globally to counteract any localized downturn in its markets. If SodaStream was resting on its laurels, I would be more willing to listen to shorty when they complain about the company's European exposure. Eventually the European market will be eclipsed by its efforts in expanding in the U.S. and the rest of the world.
I wish I had a better handle on the "main production located in Israel" concern. When the tensions in Iran were heating up and there were regular rocket attacks in Israel, I was definitely worried that one single headline would crush SodaStream. With tensions easing and increased defense measures in place in Israel, I am less concerned about this item -- but I still have it on my radar. The company is expanding production facilities into Europe, and if the U.S. market continues to expand I could see it doing the same here. The company again is recognizing this concern and is actively taking steps to alleviate the problem.
I find the fad argument to lack merit, especially with the efforts to diversify that I am seeing out of the company. Its introduction of an in-home carbonation unit that also filters and heats water is exactly the sort of effort that we should be seeing more of out of the company. While it is a new product line, it is still in the company's wheelhouse of in-home carbonation. Expanding this into installing SodaStream carbonators in refrigerators is an obvious move, and I would be unsurprised if that is announced in the near future. While I don't know how well the individual-serving SodaCaps are going to perform, it does indicate that the company is still innovating within its niche. Were the company dependent on a single product and not looking to actively diversify its income streams, I would give credence to the shorty fad story. But as it stands now, I continue to see innovation coming along with competent execution by management.
While I believe the company definitely fumbled the ball by not switching over to reporting in dollars earlier and has been punished continually for giving conservative guidance, I would rather have that and end up with investing a solid company than ride the unsupported momo train that we see in Salesforce.com (NYSE:CRM) and Amazon (NASDAQ:AMZN).
Every Day I'm Bubblin'
If the bulls can overcome this $36 resistance, we are headed to a test of the post-Q1 earnings high of $38 and setting up for a golden cross to provide further upward momentum. If recent action is any indication, the 200-DMA is now being used as support by the bulls and a springboard to attack the resistance at $36. All it will take is one good European headline and the gates of $36 will be breached, and it will be onward to $38 and higher.
I fully expect the standard run-up in shares in front of the Q2 earnings as shorts cover and save their powder for an after-report attack. That has been the shorty playbook for the last four-plus reports, and I simply don't see it changing when SodaStream reports in July. As a SodaStream long, if we see the same run up as we did for the Q4 report, I plan on selling calls to capture the run-up and hopefully keep my shares once the shorts pile on again and make those calls expire worthless.
Anyone looking to get long SodaStream should be looking at a test of the 50-DMA around $33.38 as a chance to get long. Given where we are now, I would suggest that as the buy price target and would recommend waiting as SodaStream is extremely volatile and attracts shorts like nothing else.
If you wish to play the August earnings run-up, I would start averaging in shares about two weeks outside of earnings and unload at least 50%-66% of them the day before earnings. Even a good report could see a decline in the stock on a significant run-up, and SodaStream is notorious for selling off even after stellar earnings reports.
All of the momos that were burned from the $80 to $28 implosion last year are still likely biased against SodaStream, so I don't expect any fireworks to be sustained. I do expect there to be significant support at the 50-DMA, and failing that I see $32 as being a great buying opportunity if weakness creeps back in.
Disclosure: I am long SODA.