Restructuring costs at Maple Leaf Foods Inc. (OTCPK:MLFNF) are on the rise due largely to free falling hog prices, according to Octagon Capital analyst Robert Gibson.
In a note to clients he said:
The disastrous market for hog farmers has reduced the market value for hog assets that are being sold. As a result, the company has increased its estimate of restructuring costs by C$110-million to between C$275-million and C$325-million.
Mr. Gibson added that total cash restructuring at the company is expected to reach C$90-million to C$110-million.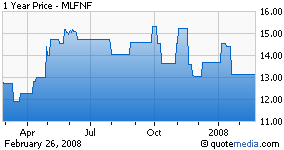 In the fourth quarter of 2007, restructuring and other related costs at Maple Leaf amounted to C$71.9-million pre tax or $C0.47 per share after tax. The company's profit before these charges of $C0.20 per share was better than Mr. Gibson's estimate and better than last year this time.
Looking forward, the analyst said the company's sow ownership and hog production will be at its target level by the end of this quarter, while rising wheat prices will result in bread price increases at the company's Bakery Products Group.
Now that Maple Leaf has sold off its animal nutrition business and the bulk of its hog operations, Mr. Gibson believes the company will turn its attention on other assets, in particular to its Brampton processing facility, the sale of which will unlock some value in the stock.
He wrote:
Maple Leaf's peer group trades at 9 times forward estimated value/earnings before interest, taxes, depreciation and amortization, while Maple Leaf is currently trading at an EV/EBITDA of 6.5 times and 6.2 times for this year and next. After the sale of the Brampton facility, it should trade even higher.
Mr. Gibson maintained his "buy" recommendation and left his C$18 price target unchanged.