On Thursday, June 14, I had the opportunity to speak with Dan Spears, partner and portfolio manager at Swank Capital, the creators of the Cushing MLP indices and funds. This article is a summary of several noteworthy points.
For those who do not know, MLP stands for a master limited partnership, which is a type of partnership that is publicly traded on a securities exchange. MLPs combine the tax structure of limited partnerships with the liquidity of publicly traded securities. Most MLPs are designed to provide income in the form of distributions.
Many MLPs are related to oil and gas pipeline businesses that earn stable income from the transport of energy. Non-competitive pipelines have an industry standard annual price increase of PPI + 2.65%, which is generally superior to other long-term lease rates. Other MLPs are related to energy exploration and production, and the distributions of those E&P MLPs are usually correlated to price movements in the commodities they extract.
Spears believes some of the pipeline businesses may have depreciated as asset-class correlations approached one due to the extreme volatility that the markets have seen over the last few months. Much of the recent market issues have been related to concerns over European sovereign failures and Chinese economic cooling, but U.S. pipeline MLPs have no real exposure to those geographic areas. Despite this, many have declined as has the industry in aggregate. See the chart for the Credit Suisse Cushing 30 MLP Index ETN (NYSEARCA:MLPN) below:
Click to enlarge images.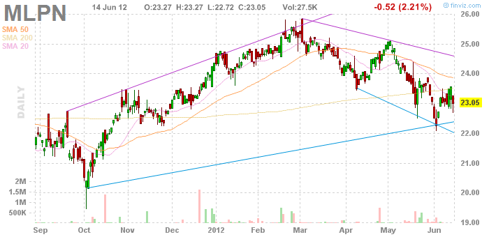 Click to enlarge
Though Cushing was surprised by the fast move downward in crude, they were fortunate that their most recent fund, the Cushing Royalty & Income Fund (NYSE:SRF), was not yet fully invested. On May 24, Cushing announced a $0.50 quarterly distribution for SRF, which would amount to a yield of about 8%. Still, many royalty and related E&P equities may have to reduce dividends in the future, and this fund's yield will move with those fluctuations.
I asked Spears which yields he believes are most stable right now, for investors who are concerned about potential dividend and/or distribution cuts, noting that Enerplus (NYSE:ERF), a Canadian mid-cap E&P company, announced it will cut its dividend in half starting in July and that other companies may follow suit in the coming months. Spears commented that he believes Linn Energy (LINE) has a reasonably secure yield and that he also has a favorable view of Enterprise Products Partners (NYSE:EPD).
Linn Energy was founded in 2003 and is headquartered in Houston, Tex. It is an independent oil and natural gas company that engages in the acquisition and development of oil and gas properties. The company''s properties are primarily located in the Mid-Continent, the Permian Basin, Michigan, California, and the Williston Basin in the United States. Last year, it reported proved reserves of 3,370 billion cubic feet equivalent of oil and gas, and natural gas liquids, as well as operated 7,759 gross productive wells.
Currently, Linn has an 8.1% yield. Last quarter, the company raised its quarterly payout from $0.69 to $0.73. See a recent performance chart for Linn: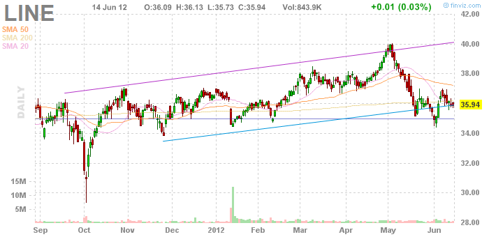 Click to enlarge
Enterprise Products Partners was founded in 1968 and is also based in Houston, Tex. It provides midstream energy services to producers and consumers of natural gas, natural gas liquids, crude oil, refined products, and petrochemicals throughout North America. This company operates NGL pipelines aggregating approximately 16,650 miles. Enterprise Products Partners' Onshore Natural Gas Pipelines & Services segment operates approximately 20,200 miles of onshore natural gas pipeline systems to gather and transport natural gas in Colorado, Louisiana, New Mexico, Texas, and Wyoming. Enterprise Products Partners' Onshore Crude Oil Pipelines & Services segment operates approximately 5,250 miles of onshore crude oil pipelines.
Currently, Enterprise Products Partners has a 5.2% yield. Last quarter, the company raised its quarterly payout from $0.62 to $0.63, and the company raised its distribution twice in 2011. See a recent performance chart for Enterprise Products Partners: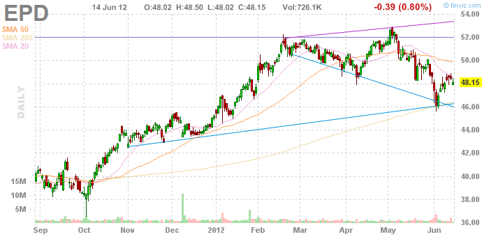 Click to enlarge
Spears indicated that Cushing's actively managed MLP and royalty funds saw positive inflows through the second quarter, largely as investors continue to seek out income production. Nonetheless, Spears indicated that Cushing has not been an aggressive or active buyer into the recent weakness, and that the European recession prompted them to take a wait and see approach. Moreover, Cushing is not currently bullish on natural gas prices, and also believes that the processors and storage companies are currently weak.
Disclosure: I am long ERF.
Disclaimer: This article is intended to be informative and should not be construed as personalized advice as it does not take into account your specific situation or objectives.