China Nepstar Chain Drugstore Ltd. (NYSE: NPD), the largest drugstore chain in China based on the number of directly operated stores, announced yesterday that it will acquire all of the 68 drugstores including inventory and store equipment owned by Ningbo New Century Medical Ltd. ("New Century") for cash consideration of RMB30 million (US$4.1 million). China Nepstar expects to take over the operations of the acquired stores in March 2008, upon completion of the acquisition.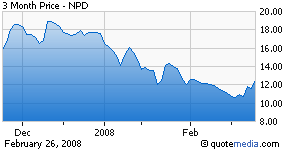 The New Century drugstore chain was established in 2002 and generated revenue of approximately RMB50 million (US$6.8 million) in 2007. It is one of the top three drugstore chains in Ningbo based on the number of outlets. New Century's stores are located mostly in newly developed, satellite districts of Ningbo, including Beilun, Ninghai, and Yinzhou Districts, where China Nepstar does not currently have a strong presence. The growth of these new satellite districts has been driven by local government initiatives to boost local economies and position the districts in key growth industries. For example, Yinzhou, Ninghai and Beilun have become centers for apparel wholesaling, stationary wholesaling and ocean shipping, respectively.
"This acquisition represents our first step towards our goal of consolidating the fragmented Chinese retail drugstore industry," said Dr. Simin Zhang, Chairman of the board of directors of Nepstar. "We will continue to execute our strategy of deepening penetration in high growth cities where we already have a presence. The acquisition of New Century's outlets will extend our market leadership and strengthen Nepstar brand in this important region."
"We plan to continue to seek synergistic acquisition opportunities throughout China to complement our robust organic growth. We believe well- identified acquisition opportunities will allow us to rapidly expand our market share, leverage our central procurement platform, and enhance our long- term value," concluded Dr. Zhang.
Located in the affluent Zhejiang Province, Ningbo is an important business center and a port city with a metropolitan area of 2,462 square kilometers and a population of approximately 6.5 million people. According to the Ningbo Statistics Bureau, Ningbo's GDP per capita reached RMB51,285 (US$7,180) in 2006. Ningbo had 1,700 retail drugstores, including 500 chain drugstore outlets and 1,200 independent stores at the end of 2006. The top three drugstore chains in Ningbo at the end of 2006 were China Nepstar (73 outlets), Si Ming Chain Drugstore (73 outlets) and New Century (56 outlets). After acquiring the New Century stores, China Nepstar is expected to have a total of over 160 stores in Ningbo as of March 2008.
With revenues of approximately RMB 1,950 million (US$273 million) expected for 2007, Nepstar is one of the largest and fastest growing drugstore chains in China. As of September 30, 2007, the Company had 1,791 stores in 62 cities and 11 regional distribution centers in China. It uses directly operated stores, centralized procurement and a network of regional distribution centers to provide customers with pharmacy services and a wide variety of other merchandise, including over-the-counter ("OTC") drugs, nutritional supplements, Chinese herbal products, personal care products, family care products, and convenience products including consumables and seasonal and promotional items.
Nepstar went public on the NYSE in November 2007 at US$16.20 per share. After an initial rise to US$21.25 following the IPO, shares slumped over 50% in difficult market conditions to a recent low of US$10.25. Investors were encouraged by the recent expansion news however. At midday, Nepstar shares have risen nearly 25% to US$14.33 on above average volume.
Source: China Nepstar Chain Drugstore Ltd.
Disclosure: none