The financial backbone of the nation is in danger of breaking. The markets that keep money flowing, businesses running, and the economy growing are faltering. The downturn is taking billions of dollars of investors' equity with it.
Combined, Wall Street lenders have lost more than $146 billion to bad debt. The damages are staggering and continue to grow with each new quarterly earnings report.
Unfortunately, the red ink does not stop on Wall Street. It is trickling through every arm of the economy. Even folks without a penny in the markets will be paying to recoup the losses as the costs of living in the nation continue to rise. High interest rates and the inflation it causes are knocking at our doorstep.
If the mortgage crisis is pinching the nation's economy, the damage it has done to the nation's bond market is downright crippling. The short-term bond market is the piston that ensures the nation's economic engine is running. Unfortunately that market, especially the usually very strong municipal bond market, has failed.
What was once a very safe, highly liquid lending tool has seemingly dried up overnight. It has pulled hundreds of billions of dollars from the American economy.
"Munis" make the world go 'round
In case you are not well versed in the nation's "muni" market, nearly every day local municipalities and organizations (like public colleges, hospitals, etc) hold debt auctions. They sell bonds to finance construction and improvement projects. Many governments even use the debt to finance pension obligations.
Just a few months ago, municipalities could expect to finance their debt with interest rates somewhere in the range of four percent, often less. The days of cheap money are over, at least temporarily.
Starting two weeks ago, many bond sellers could not find buyers. Those that did were forced to pay interest rates as high as 20%. It is a rate we have not seen in decades, not since the days of Reagan and the last major economic recession.
With rates well into double-digit territory, borrowers are scrambling to find other financing options. But until they do, there is going to be some serious fallout. No group can afford 20% debt for long. If no solution is found, there is going to be real trouble.
Fortunately, there is a way to profit from this situation. Whenever there is a major alteration in the way the nation's money changes hands, somebody is making money. If you have watched the news lately, you already know Warren Buffett and his Berkshire Hathaway (BRK.A) are cashing in. He is shelling out billions of dollars in an effort to shore up the municipal bonds market by insuring much of the debt.
One stands out in the crowd
Buffett is not alone. There are a handful of other insurers out there doing the same thing. But only one of them is offering investors a shot a big profits. Before I detail this company, we need to take a closer look at exactly why the municipal bond market is failing.
Interest rates are soaring due to supply and demand. There is no longer adequate demand for municipal bonds, so the folks trying to sell the debt are forced to pay higher interest rates in an attempt to continue funding their projects.
Governments, schools, and pension funds which used to borrow money from investors for just three or four percent interest are suddenly finding themselves paying twelve, sixteen, or even twenty percent. They are unheard of interest rates.
I could toss out hundreds of examples from just the past week or so, but here is one that makes the point perfectly…
Typically, the Port Authority of New York and New Jersey makes an interest payment of about $80,000 each week. Last week, thanks to soaring rates, it was forced to shell out over $390,000. It will not be able to endure that pain for long. No company can. It would be cheaper to break out an American Express card.
Throughout the municipal bond market's history, buyers were easy to come by. Lacking an adequate supply of willing buyers, the major banks supporting the bond auction would swoop in and buy whatever debt was not purchased.
The banks did it as a safe way to lock in secure income with a moderate interest rate. With nearly unlimited capital, it was a great way to put money to use.
Out of cash, out of luck
Unfortunately, the banks running these auctions are out of money. They lost billions of dollars when the mortgage industry imploded. Firms like UBS, Merrill Lynch, Goldman Sachs, and Citigroup are strapped for cash. They can no longer afford to keep the municipal bond industry afloat, especially with interest rates of just four percent.
In the past 22 years, only 13 municipal bond auctions failed. All of them failed due to credit issues, not a lack of buyers. Unfortunately, the failure rates soared to proportions nobody ever expected. In the second half of 2007, over 30 auctions were scraped. Even scarier, more than 500 auctions failed so far this year. The market literally evaporated in the course of three months.
Without support from Wall Street, the $342-billion "muni" market collapsed. It took some of the nation's strongest bond firms with it. No matter if it was justified or not.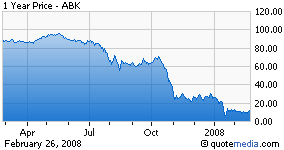 One of those companies is Ambac Financial Group (AMK:NYSE). It is one of the most prominent leaders in the municipal bond insurance market. As the market vanished, so did its investors. Since December, its share price has dropped by more than 80% to reach a 52-week low of $6.00. A year ago, its share price was flirting with $100.
Does the company deserve a hit to its valuation? Certainly. Much of the company's earnings expectation was based on bad debt.
Was this downturn overdone? You bet.
That is why the stock recently surged when Standard and Poors backed the company's AAA rating. It realized the company was as strong as ever. Fortunately, even after the surge, its share price is dirt cheap.
The municipal bond market is one of the strongest financial tools this nation has. It was dealt a devastating blow, but it is not down for the count. The debt market's correction is nearly over – as evidenced by Buffett's recent entry – and will be rebounding in no time. Companies like Ambac that have been significantly slashed will come soaring back.
While the reassurance of its financial strength from Standard and Poors was a great benefit to shareholders, the real catalyst for Ambac's rebound will likely be the spinoff of its municipal bond insurance division, a move that is rumored to already be in the works. Investors would then be investing solely in the firm's strengthened municipal bond insurance business, a very appealing notion.
Most of Ambac's trouble has come from its structured-finance unit. That is why Buffett is looking so diligently at its municipal bond business. He knows a bargain when he sees it.
So do I.
Where else can you get an opportunity to invest in an industry as strong as municipal bonds and a company as historically strong as Ambac for pennies on the dollar.
The industry has been dealt a devastating blow. Valuations have been slashed across the board. Now is the perfect chance to buy low and sell high. Invest in Ambac now, hold the position for 24 to 36 months and sell your shares as a much, much richer investor. I will be updating the position as the story develops.