Pope Resources (NASDAQ:POPE) is a publicly traded Master Limited Partnership. Pope Resources has a history as a land and timber owner in the Pacific Northwest that goes back over 150 years. Today, the company's assets include 114,000 acres of productive fee timberland, and a 20% co-investment in 61,000 timberland acres owned by Timber Funds. In addition, the company owns 2,500 acres of development property, most of which is within a 50-mile radius of Seattle.
Click to enlarge images.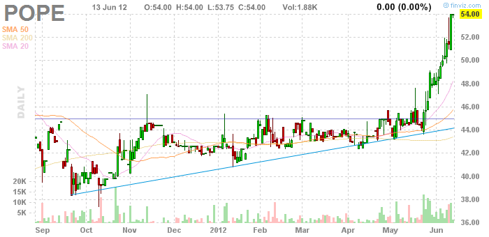 Click to enlarge
I see at least four reasons to buy the stock currently:
1. Insiders are buying
James Dahl has been buying shares of Pope Resources for months now. The latest purchases were on June 8th. Dahl has purchased shares of Pope Resources with more than $1 million since February 2012. He currently controls 472,004 shares of the company. The company has 4,347,000 shares outstanding, which makes Dahl as a 10.86% owner of the company.
2. The company announced a dividend increase
Pope Resources announced on June 1st a quarterly distribution of $0.45 per unit, effective for unit holders of record on June 15, 2012, and payable on June 29, 2012. This represents a $0.10, or 29%, increase from the prior quarterly distribution of $0.35 per unit. According to David L. Nunes, president and CEO:
We are pleased to announce this increase in our distribution payout, which recognizes confidence in our cash flow generating capabilities and the continued improvement in all of our markets.
3. Demand from China and, to a lesser extent, Japan and Korea is expected to provide price support until U.S. markets recover
Over the past decade, China's fast expanding economy and boom in housing starts lifted the country to being the world's largest importer of sawlogs and the second largest importer of softwood lumber, after the U.S. China has increased imports of logs and lumber practically every year for over 10 years, with lumber imports in 2011 being 15 times higher than in 2001 and log imports being up threefold from 10 years ago. The total value of imported logs and lumber increased from $630 million in 2001 to almost $8 billion in 2011.
Both Canada and the U.S. have increased exports dramatically the past few years. This trend continued into the first quarter of 2012, when exports from Western Canada were up 23% from 2011 Q1 and U.S. shipments were 2% higher than in early 2011.
China is likely to continue to rely heavily on North America particularly for lumber, but also increasingly for logs, over the next few years. When the U.S. housing market and, as a consequence, lumber demand eventually improve, available wood supply will tighten and costs for logs and lumber are likely to go up.
4. The stock has been outperforming the peer group
The following graph shows a five-year comparison of cumulative total unit holder returns for the Partnership, the Standard & Poor's Forest Products Index, and the Wilshire 4500 for the five years ended Dec. 31, 2011. The total unit holder return assumes $100 invested at the beginning of the period in the Partnership's units, the Standard and Poor's Forest Products Index, and the Wilshire 4500. The graph assumes distributions are reinvested.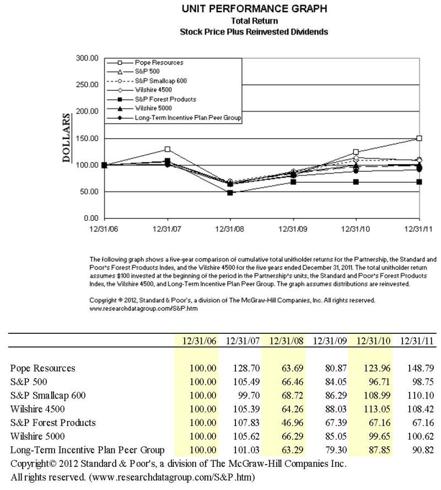 Click to enlarge
Some of the other companies in the sector include Plum Creek Timber (NYSE:PCL), Potlatch Corporation (NASDAQ:PCH), Rayonier (NYSE:RYN), Weyerhaeuser (NYSE:WY), and Deltic Timber (NYSE:DEL). I have compared the companies using Finviz's numbers:
| | | | |
| --- | --- | --- | --- |
| Company | Market Cap | Dividend % | Insider Ownership |
| POPE | 238.14 M | 3.33 % | 13.92 % |
| PCL | 6 B | 4.52 % | 0.46 % |
| PCH | 1.16 B | 4.32 % | 1.27 % |
| RYN | 5.21 B | 3.76 % | 1.11 % |
| WY | 10.94 B | 2.95 % | 0.16 % |
| DEL | 715.86 M | 0.53 % | 3.27 % |
By comparing the numbers, we find that Pope Resources has the highest insider ownership among its peers.
Conclusion
The stock has a point and figure price target of $60. I believe it will be reached during the next three to six months. The stock has been outperforming the peer group since 2006. The insider buys are very encouraging.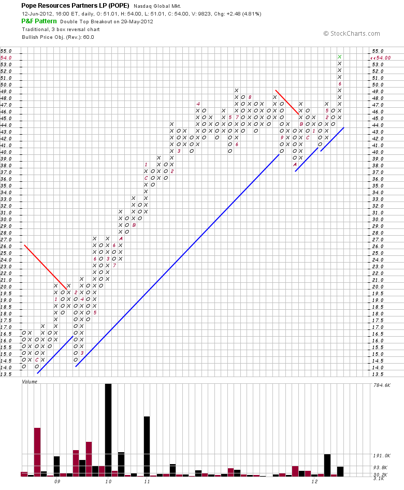 Click to enlarge
Disclosure: I have no positions in any stocks mentioned, and no plans to initiate any positions within the next 72 hours.