Micron Technology, Inc. (NASDAQ:MU), together with its subsidiaries, engages in the manufacture and marketing of semiconductor devices worldwide. Its products for data storage and retrieval comprise dynamic random access memory (DRAM) products, including DDR2 and DDR3 for use as main system memory in computers and servers; and other specialty DRAM memory products, such as DDR and DDR2 mobile low power DRAM, DDR, SDRAM, reduced latency DRAM, and pseudo-static RAM used in laptop computers, tablets, and other consumer devices.
It is scheduled to report its Q3 2012 results on June 20, 2012, after the market closes.
Recent EPS Actuals vs. Estimates
The company has failed to meet analysts' estimates in the last four quarters. In the last quarter it reported ($0.29) loss per share, failing to meet analyst estimates of ($0.19) loss.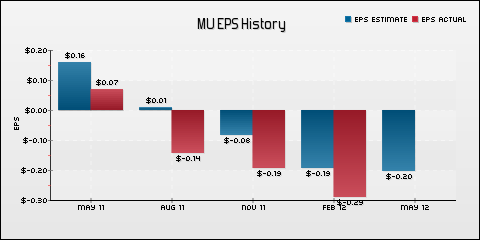 The consensus EPS is ($0.20) loss based on 25 analysts' estimates, down from $0.07 EPS a year ago. Revenue estimates are $2.01B, down from $2.14B a year ago. The median target price by analysts for the stock is $11.00. The last closing price was $5.86.
Average recommendation: Overweight
Source: Marketwatch
Analyst Upgrades and Downgrades
On March 26, 2012, the company was downgraded from Outperform to Perform at Oppenheimer.
On February 24, 2012, MKM Partners reiterated Buy rating for the company.
On February 6, 2012, Stifel Nicolaus reiterated Buy rating for the company.
On January 3, 2012, the company was upgraded from Equal Weight to Overweight at Barclays Capital.
On December 22, 2011, Sterne Agee initiated Buy rating for the company.
Key Metrics
Market Cap: 5.80B
52-week trading range: 3.97 - 9.16
Trailing P/E: N/A
Forward P/E: 10.10
Price/Sales: 0.69
Price/Book: 0.73
PEG Ratio: -0.73
Total Debt: 2.32B
Annual dividend yield: N/A
Return on Equity: -5.45%
Return on Assets: -0.70%
Latest Developments
Competitors
Micron Technology Inc. operates in Semiconductor - Memory Chips industry. The company could be compared with Spansion Inc. (CODE), Microchip Technology Inc. (NASDAQ:MCHP), Rambus Inc. (NASDAQ:RMBS), and Ramtron International Corp. (RMTR). Below is the table comparison of the most important ratios between these companies and the industry.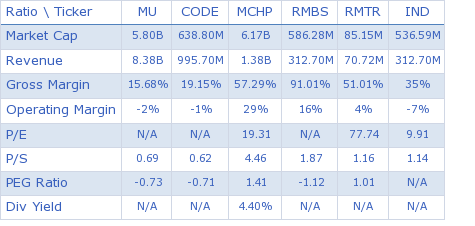 Below is the chart comparison with the stock price changes as a percentage for the selected companies and S&P 500 index for the last one year period.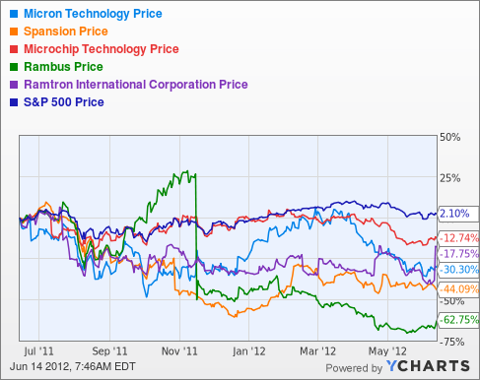 MU data by YCharts
Competitors' Latest Development
Technical Insight
The stock has been in a real downtrend since the end of March (correlates with downgrade by Oppenheimer). It is trading below 50- and 200-SMA on daily trend. On the weekly chart it looks like the stock is testing the support at around $5.5.
Discussion
Do you think the company will continue to fail meeting the analyst estimates like it did in the last four quarters?
Sources: Yahoo Finance, Google Finance, Marketwatch, Finviz, Reuters.
Disclosure: I have no positions in any stocks mentioned, and no plans to initiate any positions within the next 72 hours.