In my previous post I recommended buying gold. Now, in this article I recommend buying platinum now, but in the case of platinum the investor should be more patient because it might take more time for platinum prices to recover from the last price correction.
The price of platinum on June 14, 2012 was $1,470 an ounce. In order to achieve its all time high, $2,286 an ounce, from March 2008, platinum price should go up 55.5%; and even for it to reach this year's high of $1,742/oz, it should go up 18.5%. In the case of gold, the all time high was $1,907 an ounce on April 2011, and this year's top value was $1,788.4/oz. In order to get to its top prices from the last price of $1,623, gold price should go up 17.5% and 10.2% respectively.
Source: data (TradeStation Group, Inc.) chart (Arie Goren)
Platinum is a precious metal that will never tarnish, lose its rich white luster, or even wear down through the years, and just like gold, it can be a safe haven in the current environment of uncertainty in the global financial markets. However, platinum is not just that, it is also a very important industrial metal because it posses exceptional properties. As a pure metal, platinum is silvery-white, lustrous, ductile, and malleable. Platinum's resistance to wear and tarnish is well suited for making fine jewelry. The metal has an excellent resistance to corrosion and high temperature and has stable electrical properties. All of these characteristics make it usable for industrial applications.
The main use of platinum is in automobiles as a catalytic converter, which allows the complete combustion of low concentrations of unburned hydrocarbons from the exhaust into carbon dioxide and water vapor. According to Johnson Matthey PLC in its report "Platinum 2012":
The bulk of growth in demand for platinum in autocatalysts last year came from higher production of heavy duty diesel trucks. Globally, 515,000 oz of platinum was purchased in this sector, an increase of some 27% on 2010, with most of the increase in the U.S. and Mexico. Fleet operators, which delayed replacing vehicles during the recession, returned to the market last year to replace older trucks and as a result manufacturers reported full order books in 2011 and into the first quarter of 2012.
The second use of platinum is for jewelry. The demand for platinum in the global jewelry sector increased by 60,000 ounces to 2.48 million ounces driven mainly by growth in the Chinese and Indian markets.
The demand for platinum by the industrial sector (chemical, glass, electrical and petroleum refining) increased from 1.14 million ounces in 2009 to 1.755 million in 2010 and to 2.05 million ounces in 2011.
The demand for platinum for investment declined in 2011, as explained in the report "Platinum 2012":
Net physical investment demand for platinum was positive in 2011, at 460,000 oz, but was 195,000 oz lower than the previous year. Japanese investors piled into the large bar market during price dips, offsetting concurrent disinvestment in exchange traded funds (ETFs). Total ETF holdings grew in the first eight months of 2011, reaching record cumulative levels of 1.63 million ounces in the middle of September. Net investment tended to coincide with periods of rising platinum prices, while downward corrections in the price, such as that which followed the Japanese earthquake, tended to provoke liquidation of holdings, perhaps as a result of distressed selling. From the third week in September onwards, there was a fall in net holdings coincident with a plunge in the platinum price by more than $200.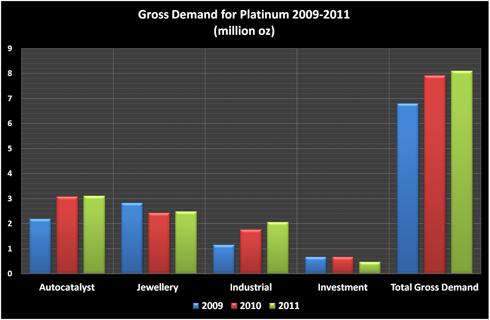 Source: data (Johnson Matthey PLC "Platinum 2012") chart (Arie Goren)
World mine production of platinum is very small, 201.5 tonnes in 2011, especially compared to the 2,818.4 tonnes of gold mine production in the same year. Approximately 75% of the global production this year came from South Africa and 13% from Russia. Since mines in South Africa seldom suffer from interruptions due to electricity shortages and miners' strikes, a future shortage of supply is expected. A strike at the Modikwa mine last month reportedly resulted in a loss of about 21,000 ounces, and Impala Platinum's Rustenburg mine is now losing about 3,000 ounces per day due to work stoppages.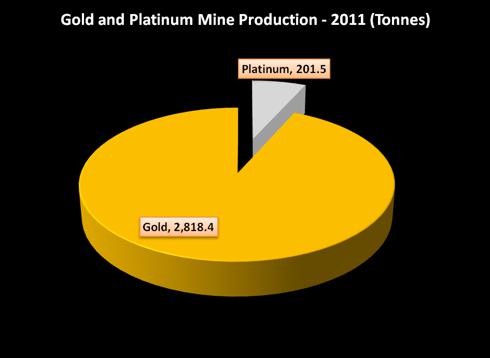 Source: data (World Gold Council, Johnson Matthey PLC "Platinum 2012") chart (Arie Goren)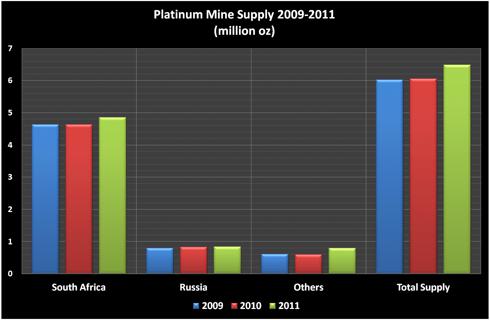 Source: data (Johnson Matthey PLC "Platinum 2012") chart (Arie Goren)
The reason I think it will take more time for the price of platinum to get to its previous high (especially compared to gold) is because the platinum market swung into a surplus of 430,000 oz last year. Although gross demand rose 2% to just under 8.1 million ounces, led by resurgent purchasing for industrial applications, it was more than offset by higher supplies and rising levels of recovery from autocatalyst and jewelry scrap. Recycling represented 19% of the supply in 2009, 23% in 2010 and 24% in 2011.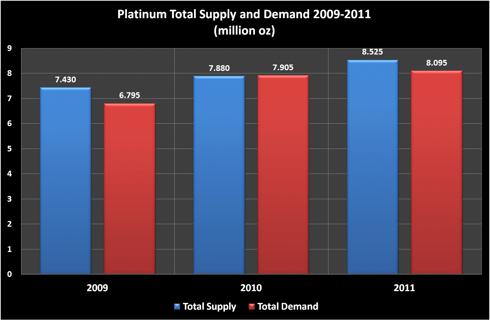 Source: data (Johnson Matthey PLC "Platinum 2012") chart (Arie Goren)
ETFS and ETNS for platinum and gold traded on NYSEArca:
ETFS Physical Platinum Shares (NYSEARCA:PPLT)
UBS E-TRACS Long Platinum TR ETN (NYSEARCA:PTM)
SPDR Gold Shares (NYSEARCA:GLD)
Sprott Physical Gold Trust ETV (NYSEARCA:PHYS)
ETFS Physical Swiss Gold Shares (NYSEARCA:SGOL)
ETFS Physical Asian Gold Shares (NYSEARCA:AGOL)
Disclosure: I have no positions in any stocks mentioned, and no plans to initiate any positions within the next 72 hours.