Sonic Corp. (NASDAQ:SONC) operates and franchises a chain of quick-service drive-in restaurants in the United States. As of Oct. 03, 2011, the company operated and franchised approximately 3,500 drive-ins. It also leases signs and real estate. The company was founded in 1953 and is headquartered in Oklahoma City, Okla.
It is scheduled to report its Q3 2012 results on June 20, 2012, after the market closes.
Recent EPS Actual vs. Estimates
The company has met or beaten analysts' estimates in the last two quarters. In the last quarter it reported $0.03 EPS, meeting analyst estimates.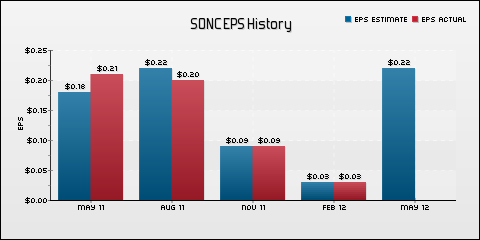 The consensus EPS is $0.22 based on 14 analysts' estimates, up from $0.21 a year ago. Revenue estimates are $149.84 million, down from $152.10 million a year ago. The median target price by analysts for the stock is $9.75.
Average recommendation: Overweight
Source: MarketWatch.
Analyst Upgrades and Downgrades
On Jan. 5, 2012, RBC Capital Markets reiterated its Outperform rating for the company.
Key Metrics
Market Cap: 520.73 million
52-week trading range: $6.35-$11.34
Trailing P/E: 35.79
Forward P/E: 13.22
Price/Sales: 0.95
Price/Book: 10.63
PEG Ratio: 1.12
Total Debt: 523.41 million
Annual dividend yield: N/A
Return on Equity: 36.40%
Return on Assets: 8.04%
Latest Developments
On March 21, 2012, Sonic announced that it expects positive same-store sales for fiscal 2012; a 1% change in same-store sales equates to approximately $0.03 in net income per diluted share.
Competitors
Sonic operates in the restaurants industry. The company could be compared to AFC Enterprises (AFCE), Jack in the Box (NASDAQ:JACK), McDonald's (NYSE:MCD), and The Wendy's Company (NYSE:WEN). Below is the table comparison of the most important ratios between these companies and the industry.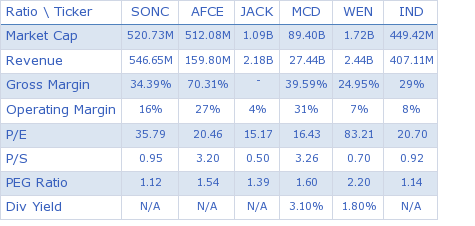 Below is a chart comparison with the stock price changes as a percentage for the selected companies and S&P 500 index for the last one-year period.
Click to enlarge image.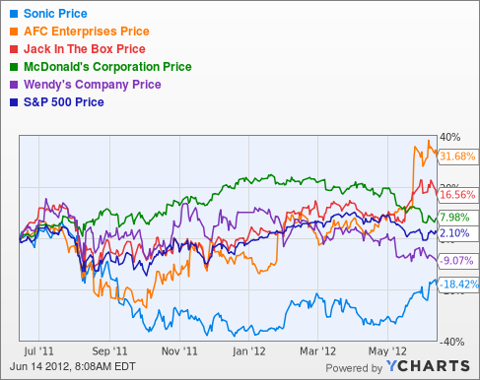 Competitors' Latest Developments
Technical Insight
The company had reached its lows in the autumn of last year. It stayed there until this spring. Recently, however, it has started to show some signs of turning north and is trading in the zone of breaking out of the channel on the daily chart. It is trading above the 20-, 50- and 200-SMA.
Data sourced from Yahoo Finance, Google Finance, Marketwatch, Finviz, and Reuters.
Disclosure: I have no positions in any stocks mentioned, and no plans to initiate any positions within the next 72 hours.