Analysts may have hinted at it last week during CapitalSource's (NYSE:CSE) fourth-quarter earnings call, but yesterday the truth was confirmed -- CapitalSource is not covering its dividend with taxable income.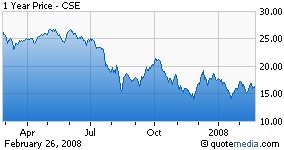 After the bell Monday, CapitalSource put out a short press release announcing that the tax characteristics of its 2007 dividends were available on the Company's website. Those who've read my blog know that I track tax characteristics as a measure of a mortgage REIT's dividend health.
Despite CSE management playing up the $0.60/share quarterly dividend in its last earnings release:
Given the strength and performance of our business and, in particular, credit metrics that remain at the low end of historical ranges, we declared a $0.60 per share cash dividend for the first quarter of 2008 yesterday and we are projecting a $0.60 per share quarterly cash dividend for the balance of 2008...
The truth is that two-thirds of CapitalSource's 2007 dividends were classified as a return of capital. That's right, fully $1.60/share of the $2.38 in '07 dividends amounted to CSE shareholders being handed back their original investment. Thus, if you were invested in CapitalSource at the beginning of 2007, and you sold CapitalSource shares in December to harvest tax losses, well, your capital loss just got cut by $1.60/share.
In other words, CSE can't generate enough taxable income to maximize the advantages of being a REIT. Instead of owning up to this and retaining the excess capital tax-free, CSE chose to keep pumping out dividends and diluting existing shareholders through its DRIP and direct stock purchase plan -- during one of the worst credit crises in recent history. If nothing else, CapitalSource could have retained the capital and repurchased common shares as a better means of supporting shareholder value.
By their very nature, REITs maximize their value when they can fully utilize their tax-advantaged structure. CapitalSource, meanwhile, reported an effective tax rate of 33.2% for 2007. Being a mortgage REIT is not just about paying a dividend. It's about utilizing a complex structure to deliver returns on shareholder equity.
Disclosure: none