Capstone Turbine Corporation (NASDAQ:CPST) announced 4th quarter and fiscal year 2012 results after the close on Thursday, June 14th. The company is the leading clean technology manufacturer of microturbine energy systems and they reported record revenue, orders, and backlog for the quarter. However the company had an adjusted net loss of $0.04 per share compared with analyst estimates for a loss of two cents per share. Revenue for the quarter beat slightly coming in at $30.1 million, up 10% sequentially, and 32% year-over-year. The company had new orders in fiscal year 2012 of $122.5 million; up 42% year-over-year and orders in the 4th quarter were $48.7 million, a sequential gain of over 110%. Fiscal year 2012 was the first year in the company's history with all four quarters having positive gross margins.
Revenue from oil and gas plays accounted for 58% of total revenue in fiscal year 2012 up from 39% in the previous year. In 2012 about 38% of revenue came from North America and 27% came from Russia. Sales in these areas were lifted by strong oil and gas sales, and strong follow-on orders in this segment. The company has not seen any decline in orders with the decreases in capex spending in shale oil plays. Analysts estimates for revenue in fiscal year 2013 is $146 million, given a 12 backlog of $139 million, Capstone should easily hit that revenue estimate. Analysts are estimating the company breaks even in 2013 and earns $0.09 per share in 2014. After gaining positive gross margins, and getting positive cash flow, profitability would be the next major milestone for Capstone.
Going forward Capstone hopes to improve the sales mix towards larger units, driving increased selling prices. The company is working on cost cutting incentives to help improve margins. Production capacity utilization was only 35% for the year, so the company could significantly increase sales and realize strong improvements in margins on sales gains. The company believes that increasing sales, cost reductions, and business model leverage will drive the company to profitability. The company focusing on reducing costs as well as improving sales is a positive factor for Capstone.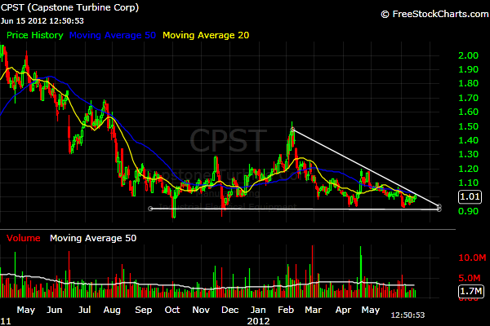 Click to enlarge
The chart shows strong support as Capstone nears $0.90 per share, but the stock has also been held down by a descending trendline starting from the high in early March. If Capstone break above this trend it could run about 50% before running into strong resistance around $1.50. Overall the company had a strong quarter with very strong orders, and with support near current levels now could be a good time to invest.
Data sourced from: Yahoo!Finance, Finviz.com and Company Filings. Chart from: Freestockcharts.com
Disclosure: I have no positions in any stocks mentioned, and no plans to initiate any positions within the next 72 hours.