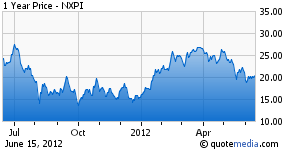 Apple (NASDAQ:AAPL) is definitely the "tide" that can lift all boats. Being included in its latest new product launch can be a make or break for any component maker's stock. I have done well with investing in OmniVision Technologies (NASDAQ:OVTI) over the years as it ebbs and flows along with its partnership with the juggernaut from Cupertino. Rumor has it that NXP Semiconductor (NASDAQ:NXPI) among others is ramping up to supply the next generation iPhone. The next version of the phone should include Near-Field Communication ("NFC") technology like which is available in the new Samsung phones which NXPI supplies. The stock looks interesting from a valuation perspective as well.
Six reasons to pick up NXPI at $20 a share:
It has roughly 50% upside to reach the median price target of $30 that the 7 analysts have on the stock. In addition, Credit Suisse has an "outperform" rating on the stock and recently upped its price target to $33 a share.
NXPI is cheap at under 7.5 times forward earnings.
Consensus estimates for FY2012 and FY2013 have gone up 3% in the last two months, despite the downturn in the overall market.
Revenue growth is expected to accelerate from FY2012 to FY2013 and the stock has a very cheap five year projected PEG (.50).
The company is in its sweet spot within its products cycle. Credit Suisse expects it to go from $1.50 EPS in FY2010 to $3 EPS in FY2013 as it improves its operating margins and pays down debt.
The stock was over $26 less than two months ago. Its rising earnings estimates and confirmation of supplying the next iPhone should be enough to regain those levels in the near term.
Disclosure: I am long AAPL, OVTI. May initiate long position in NXPI over next 72 hours