By Brendan Gilmartin
Bed Bath & Beyond (NASDAQ:BBBY) is scheduled to report 1Q 2012 earnings after the close of trading on Wednesday, June 20 with a conference call slated to follow at 5:00 p.m. EST. The actual results are typically available via press release at 4:15 p.m. EST.

Outliers & Strategy
Key measures:
Earnings Per Share: Back in early April, the company projected 1Q 2012 EPS to be approximately $0.79 to $0.83. More recently, however, the Street estimate climbed to $0.84 (Source: Yahoo! Finance), above the high end of the company range, implying the underlying expectations are quite high headed into the results. The high number on the Street is $0.91. Given the 24.2% YTD appreciation in the share price, look for an EPS value well above $0.84 to push the shares higher.
Revenues: Keep a close eye on revenues (estimate is $2.25 bln). A miss on the top-line for 3Q 2011 sent the shares more than 6% lower last December.
Comparable Store Sales: According to StreetInsider.com, Barclay's expects Bed Bath & Beyond to deliver a 4% comp.
Earnings Per Share Guidance (2Q 2012): Based on recent performance of the stock price and anticipated accretion from the Cost Plus acquisition, the company is seen delivering a solid forward outlook.
Note that Wal-Mart (NYSE:WMT) recently broke out to its highest level in more than a decade. Bed Bath & Beyond is also benefiting from cost-conscious consumers, due to a softer economic backdrop, supporting its Harmon and Harmon Face Values discount health and beauty storefronts. The recent acquisition of Cost Plus (NASDAQ:CPWM) (5/9/2012) -a transaction expected to be accretive to 2012 results is also seen supporting the outlook for the balance of the year.
Recent News
06/14: Barclay's reiterated an Overweight on Bed Bath & Beyond with a target of $76, based on execution, expense control, and management focus on merchandising. The firm sees 1Q EPS of $0.83, below the Street estimate, according to StreetInsider.com.
05/11: Credit Suisse raised Bed Bath & Beyond to Outperform from Neutral and raised the price target from $75 to $91, citing the acquisition of Cost Plus, according to a report on Benzinga.com.
05/09: Bed Bath & Beyond to acquire Cost Plus, Inc. in an all cash transaction valued at $495 mln.
Technical Review
Bed Bath & Beyond shares are up about 25% since mid-February, recently touching a peak of $74.67 on May 29 - its highest level on record. Should earnings surprise to the upside, look for resistance at that level, especially in light of Friday's (6/15) failure near $74.00. Conversely, support is at the 50-Day SMA near $70.00, with further downside risk to $68.00 - the late March high. (Chart courtesy of StockCharts.com).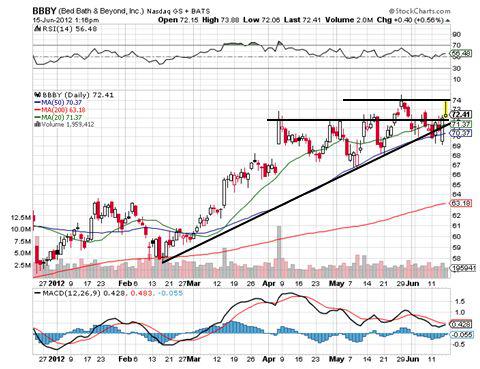 Summary
Bed Bath & Beyond recently broke out to an all-time high, thanks to an improved macro backdrop in North America, a string of recent acquisitions, solid management, tight expense controls, share repurchases, and a diversified suite of storefronts that enable the retailer to more easily absorb potential economic shocks. More recently, however, the shares failed to overcome a prior peak near $74 -- a sign that the 25% move higher since February may be due for a pause. Furthermore, the Street estimates are now above the earnings guidance provided back in April -- a signal that expectations may be a bit stretched ahead of the numbers, leaving the stock somewhat vulnerable. Against this positive backdrop, look for earnings, revenues, and guidance for the current quarter to top forecasts. Anything less would be seen as a disappointment, given the magnitude of the recent run-up.
Disclosure: I have no positions in any stocks mentioned, and no plans to initiate any positions within the next 72 hours.
Disclaimer: By using this report, you acknowledge that Selerity, Inc. is in no way liable for losses or gains arising out of commentary, analysis, and or data in this report. Your investment decisions and recommendations are made entirely at your discretion. Selerity does not own securities in companies that they write about, is not an investment adviser, and the content contained herein is not an endorsement to buy or sell any securities. No content published as part of this report constitutes a recommendation that any particular investment, security, portfolio of securities, transaction or investment strategy is suitable for any specific person.