With the Global X Uranium ETF (NYSEARCA:URA) and Nuclear Energy ETF (NYSEARCA:NLR) down 14%, and 9% year-to-date, we feel it is appropriate to look at recent insider buying/selling to see how insiders are viewing their stock valuations using net insider share purchases as a proxy. This analysis considers only open market transactions for a select group of uranium mining, exploration and enrichment stocks and excludes option exercises to see if insiders were net buyers or net sellers of their own stock in 1H12.
Traditionally, insider activity has been a useful sentiment indicator for estimating overbought/oversold levels. We believe it is a particularly important signal for uranium stocks given relative scarcity of independent research in this sector. As seen in the graph below, insider transactions have been closely correlated with the overall sector performance as reflected in the Global X Uranium ETF performance.
Notably, for the first time in almost 9 months there is a clear divergence between insider sentiment and uranium sector performance. Despite multi-year lows in the price of uranium stocks, insider activity remains muted with little conviction on either the buying or selling side. Uranium junior Ur-Energy (NYSEMKT:URG) is the only company with consistent management buying during the last 6 months. Other stocks with insider buying pattern include Cameco (NYSE:CCJ), Uranium One (OTC:SXRZF) and UEX (OTCPK:UEXCF).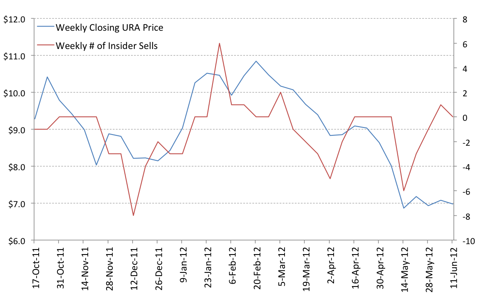 Click to enlarge
Source: Public Filings, Bloomberg, CapitalIQ
Unlike many uranium sector analysts and commentators, insiders seemed to be fairly skeptical of the uranium rally in 1Q 2012 and remained net sellers. And although insider selling has decreased since then, overall insider activity remains fairly muted. We believe this a testament to the continued industry uncertainty and potential further downside in uranium mining valuations. We look for an increase in insider buying as a positive sentiment indicator for the uranium sector.
Net Insider Buyers (2Q12): Cameco, Rockgate Capital (OTC:RCKGF) , UEX Corp, (OTCPK:UEXCF) Uranium One (OTC:SXRZF), Uranerz (NYSEMKT:URZ), Ur-Energy (URG).
Net Insider Sellers (2Q12): Strathmore Minerals (OTC:STHJF)
While insider transactions can offer a useful insight into how management views their company valuations, this is only one of many factors that investors should consider in developing their analysis. Investors should also be aware that not every insider transaction is the same and that insider incentives to buy or sell shares could vary drastically.
Source: Public filings for uranium mining and exploration companies with primary listing in the U.S and Canada, including Cameco, Denison Mines (DNN), Laramide Minerals (LMRXF.PK), Rockgate Capital, Strathmore Minerals, Strateco Resources (SRSIF.PK), Uranium Energy (UEC), UEX Corp , Uranium One , Uranerz , Uranium Resources (URRE), Ur-Energy, USEC (USU).
Disclosure: I have no positions in any stocks mentioned, and no plans to initiate any positions within the next 72 hours.