Something that I get excited about when I think long term potential with Zalicus (ZLCS) is Z160. I dream about the huge figures in my trading account that could very well be realized in the near future.
You have to go back a few years to get the whole story on Z160, formerly known as NMED160. Neuromed came to the agreement in 2006 to license this product to Merck (NYSE:MRK) for NMED160. This deal was originally valued at 475 million dollars plus ongoing worldwide royalties. NMED160 targeted N-type calcium channel blockers for chronic pain. It was later de-prioritized in Phase II trials because of bioavailability issues and was released from Merck.
Neuromed and CombinatoRX (ZALICUS) merged in July of 2009. Z160 would be the first of its kind to be orally administered to block calcium pain receptors without an opioidal side effect. Very exciting advancements have been announced recently about Zalicus' new formulation of Z160 in its recent presentation. They have seemed to solve the bioavalibility issues in this new formulation by seeing a six-fold improvement in Phase I PK studies compared to the original Merck Formulation.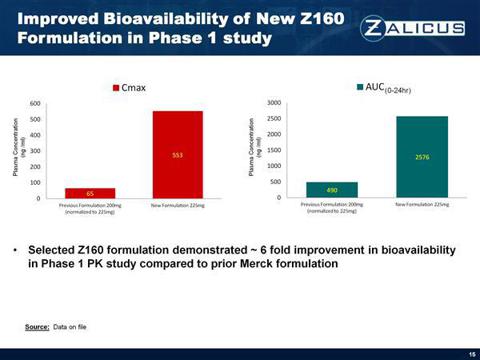 Click to enlarge
(Click to enlarge)
There have been no new drugs approved in decades for this type of pain problem. The only other type drug that has similar effects is directly injected in the spinal cord, therefore it limits its availability.
The market for this drug is well over 2 billion dollars and could change the pain industry as we know it. If you notice the second slide, this pain model shows the effects of Z160 compared to its competitors that rule the market: Morphine and Gabapentin. This data is extremely encouraging and shows the advancements that Zalicus has made over the past several months bringing Z160 closer to FDA approval.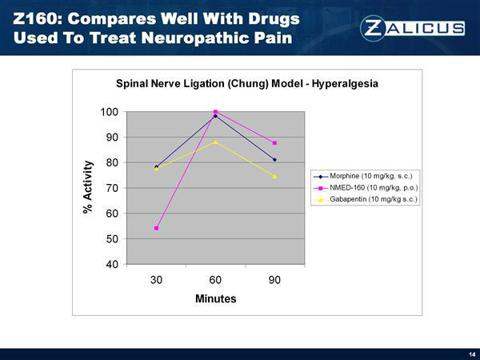 Click to enlarge
(Click to enlarge)
Zalicus already has in the works a Phase IIa study that is expected to start in the 4th quarter of 2012 and topline data is expected on this study in the 3rd quarter of 2013.
With Zalicus currently trading in the $1.20 range and with a market cap of around $140 million, this makes me sure that Merck and other big pharmaceutical companies have their eyes on Zalicus. With the original formulation putting together $475 million that Merck was going to pony up; a measly 140 million seems like a drop in the bucket to have the potential of what this drug can do in their portfolio. I would think in the coming months the big boys will come back in to play and create HUGE value for Zalicus' shareholders.
The opportunity is big enough that I am willing to wait for it. I don't want to miss the boat for a once in a lifetime opportunity.
Disclosure: I am long ZLCS.