Financial results (all figures NZ$):
On a consolidated basis, Telecom NZ (NZT) came in basically flat on revenue ($2.8B) and EBITDA ($935M) for the first half of the fiscal year. EBITDA margins were stable around 33%. However, these numbers mask some of the deterioration at their NZ, Australian and wireless operations, somewhat offset by an uptick in broadband and data business.
Ongoing operation expenses are trending in the wrong direction, with labor costs jumping 22% for the quarter, +12% for the 1st half of FY 2008. Much of this increase is attributable to the organizational restructuring and can be expected to continue.
NZT generated $739M of operating cash flow [OCF] and $317M in free cash flow [FCF] for the 6 months ending 12/31/2007. These figures are +9% and +22% YOY, respectively and so far, on-target to meet our targets of $1.5B OCF & $570M FCF for 2008. However, these figures were boosted by dividends from Southern Cross and lower tax payments. The company warned that the cash-flow trend will follow the EBITDA trend, which is decidedly negative.
The company did not give any hard numbers on market share for the various segments they compete in but management made it clear that the company was losing ground in various markets. The Australian market is still struggling to turn a profit. NZ fixed-line operations were hurt by promotions for free broadband from competitors and ARPU numbers for wireless fell 15%.
CapEx spending is projected to come inline with guidance for the year ($950 - $975M) but CEO Reynolds mentioned that the company would undergo a CapEx program review, examining not only the numbers going forward but how the company approaches capital spending in general.
Management lowered guidance for the Australia operations and confirmed the low-end of previous NZ EBITDA guidance. They also tightened the depreciation & amortization range, upping the lower limit, which could hit earnings.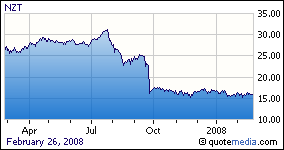 Obviously, Telecom New Zealand is in a rough patch at the moment. Much of new CEO Paul Reynolds' earnings presentation centered around his issues checklist: customer focus, regulation, broadband, NGN (next generation networking), mobile, Australia, and ICT. Obviously, these are all substantial issues and it would be reasonable to question how much attention each issue could receive, especially during this transition period. Some of the incumbent management implicitly conceded as much, saying that perhaps business growth had suffered due to the focus on organizational and structural matters.
I would expect this cloud to hang over NZT for at least another year or two. My OCF/FCF targets had built in a negative growth rate for the company, with a -6.5% decline in EBITDA this year and -1% annualized for the 4 years following. But it is important to remember the distinction between precision and accuracy. I have no illusions of precisely nailing the company's results but instead, am looking for a ballpark figure on which to base my assessments. Telecom, despite their poor results, are matching my expectations and as long as they don't fall off a cliff, I'm comfortable holding on during this uncertain period.
While it is still early days, I like Paul Reynolds' focus on external relations, both with regulators and customers. He is driving the company toward a subtle cultural shift on how they approach business, as evidenced by the capital review program. In short, I like what I am hearing and while it's possible that he may encounter resistance internally, the circumstances are such that the company will have to change to achieve some modicum of the success they enjoyed previously.
I still like NZT as a stock despite the rough quarter. My original thesis was based on the premise that NZT paid a nice foreign currency dividend and had been beaten down to where downside risk was limited. Since opening our position in early Oct 2007, NZT has outperformed the Dow by nearly 4%, the S&P 500 by ~4.5% and the NASDAQ by ~8%, not counting dividends. Simultaneously, we will be collecting a nice payout (over 5% based on just the 3 declared quarterly dividends, not counting the balloon Q4 dividend). These factors make NZT a relatively attractive play for my money. While we may sacrifice some upside if the markets take off shortly, the downside protection in these crazy markets is easily worth that and more.
2008 Guidance (NZ$ unless noted)
NZ Operations EBITDA to come in -8% YOY to ~$1.8B from $1.99B.
Aus Operations EBITDA ~ A$80M - A$90M
Financing costs = $150 - $160M
Consolidated normalized NPAT ~ $700 - $730M.
CapEx ~$950 - 975M.
Performance Measurements:
Generate ~$1.5B OCF & ~$570M FCF for FY 2008.
Drive operating efficiency to reduce costs.
Bring Australian operations closer to profitability.
Meet aggressive operational separation timelines.
Deliver measurable improvements in customer experience & satisfaction.
Continued growth in business IT svcs (Gen-I)
Rollout of new technology (WCDMA, a2dsl+, etc)
Maintain dividend payout ratio (75%).
Disclosure: Long NZT