Investors are very worried about the Greek election this weekend, as the media continues to cover the issue intensely. Informed investors are expecting the Greek elections to form a government and have already positioned themselves for this outcome. Gold has continued to rally since its late May bottom on worries of Greece and the hope that QE3 is on its way from the Federal Reserve. Investors of SPDR Gold Trust (NYSEARCA:GLD) and iShares Silver Trust (NYSEARCA:SLV) should beware because both ETF's could sell off 3-5% next week if the Greek government is formed and QE3 is not implemented.
This weekend's Greek elections will be tight. The 3 leading parties are New Democracy, Syriza, and Pasok. New Democracy and Syriza are neck and neck in opinion polls, slightly favoring New Democracy, but still within the margin of error. Unlike the last election, the winner this weekend will get a bonus of 50 parliament seats. This will go a long way for the New Democracy, a pro-bailout party, to form a government in Greece. New Democracy and Pasok are both in favor of the current bailout for Greece, and my math has the 2 parties grabbing 162 of the 300 (after the bonus 50 seats) parliament seats this weekend. 151 seats are needed to form a government.
If Greece forms a government, the stock market will trade higher Monday morning on a sugar high. Gold has been rallying as a safety trade in case Greece doesn't form a government. Upon a Greek government formation, GLD will likely open higher and immediately trade lower as investors leave the safety trade.
Later in the week, the Federal Reserve has a 2 day meeting on June 19th and 20th. Investors have been buying GLD and SLV in belief QE3 will be announced or hinted at in this meeting. Investors are setting themselves up for a bitter disappointment. Ben Bernanke will want to hold off on QE3 for emergencies only. The U.S. stock market remains higher on the year, and we're already getting stimulus from China (stimulus and an interest rate cut) and action from Europeans (Spain's bank bailout). The likelihood is Bernanke will not want to hint or announce QE3 next week as it should be used as a last resort to stave off deflation. The economy hasn't weakened enough, and the political will for QE3 is very low at the moment.
With a Greek government looking like it'll be formed, and no QE3 from the Fed, expect GLD and SLV to have a rough week next week: beware of being long GLD. If a Greek government is created, you better sell GLD on the open Monday morning.
This is purely a short-term trading piece. Long-term, I believe GLD will go significantly higher as governments must print their way out of this debt bubble. QE3 will be initiated this year but likely not until the fall of 2012.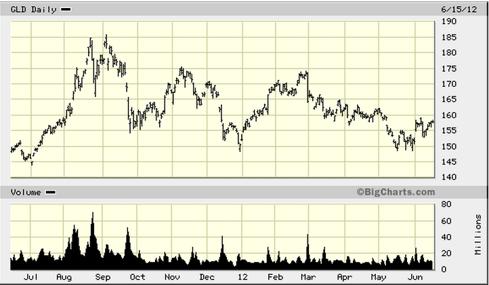 Click to enlarge
(Click to enlarge)
Disclosure: I have no positions in any stocks mentioned, but may initiate a short position in GLD over the next 72 hours.