In just 5 years, the first baby-boomers will begin turning 65. Each and every day, from 2011 until 2020, 10,000 more Americans will pass that threshold.
Medical advances gallantly prolong lives, but with an aging demographic of that proportion imminent -- let's face it -- death care services are a good long-term investment.
Over the last two decades, many traditionally family-run funeral businesses have been bought up by large national corporations. One of them is Louisiana-based Stewart Enterprises, Inc. (NASDAQ:STEI), which went public in 1991 and is the oldest publicly traded death care company in North America.
Owning and operating over 200 funeral homes and well over 100 cemeteries throughout the U.S., Stewart focuses strongly on the increasingly popular "preneed" market.
Preneed arrangements no longer just involve burial plots, but funeral goods and services. For cremations as well: The Cremation Association of North America predicts that just over 35% of the populace will opt for cremation over burial by 2010.
Though the fanciest of cremations easily average over 50% less than full-blown funerals, there are still healthy profit margins for operators in this growing sector of the market.
Smart Stock Investing: The time is ripe.
Stewart Enterprises reported net earnings of $39.3 million for fiscal year 2007, ending Oct. 31. That's a 4.5% increase compared with $37.6 million in income for 2006.
In September of last year, Stewart Enterprises initiated a 25 million dollar stock buyback at an average price of $8.14 per share. On December 20, the company announced an additional $25 million increase for repurchases.
At the same time, they announced a quarter cash dividend of $.025. But at the end of the year, the company missed EPS predictions by 4 cents.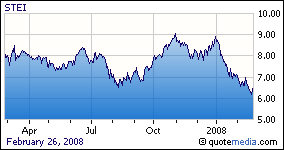 From a 52-week high of $9.13 in October 2007, the company's share price has dropped to a 52-week low of $6.22 as the U.S. funeral industry was stirred up by financial scandals.
I believe the time to get in on Stewart Enterprises is now – while the price is artificially depressed. Get in and hold on!
A morbid investment? Perhaps. One with money-making potential? Definitely!
I recommend that you buy Stewart Enterprises Inc. at or under $6.50 a share and hold it as a long-term investment in your portfolio.
Disclosure: None