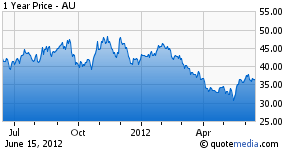 I believe AngloGold Ashanti (NYSE:AU), focused on the mining, extraction and selling of gold internationally, is taking the proper steps to increase growth and improve its returns to shareholders. AngloGold Ashanti stock is trading about 22 percent below its 52-week high, and 22 percent above its 52-week low. Right in the middle of its 52-week range, I foresee room for growth in AngloGold Ashanti stock. With room for growth, I also believe returns to shareholders will increase, making AngloGold Ashanti a valuable stock to own.
AngloGold Ashanti is focused on expanding its gold mining both within its current mine locations, and to new locations around the globe. AngloGold Ashanti is part of a joint venture with Dubai investment group Thani, which is called Thani Ashanti. This joint venture is also partnering with the London based company, Stratex International, to further explore and eventually begin drilling for gold in the Pandora region.
A sample drilling in this region in east Africa showed high-grade gold samples, which these companies believe are "highly encouraging for the future economic potential" of the region. Thani Ashanti has a 51 percent stake, spending $3 million in the two-year exploration of the project. This expansion of AngloGold Ashanti seems like it is destined to be profitable, and it is a very smart move by management to capitalize on the possibility of a joint venture - so they do not need to bear all the risk and potential losses.
Another potential profitable business venture that AngloGold Ashanti may choose to capitalize on is the purchase of Tanzanian Royalty Exploration. The Tanzania region in Africa has seen a recent explosion of gold production. Furthermore, Tanzanian Royalty Exploration has recently announced the discovery of a consistent supply of high grade gold, which means the costs of extracting this gold will be low. This will lead to favorable profit margins, as the price for such gold is no different than the rest of the gold supply.
It seems likely that one of the large gold mining companies that already operate in the region may acquire Tanzanian Royalty Exploration. The company's high profitability given its recent announcement, and the relatively small size of the business make it possible for either AngloGold Ashanti, or Barrick Gold (NYSE:ABX) to acquire it. The Lake Victoria region, where Tanzanian Royalty Exploration is focusing its efforts, has a long history of healthy gold production, and a bidding war may take place over the company.
AngloGold Ashanti is also looking to increase its expansion in the Americas. It has agreed to purchase the rest of Brazil's Crixas gold mine from Kinross Gold (NYSE:KGC), for $220 million. AngloGold Ashanti's CEO Mark Cutifani has stated he believes this purchase will simplify the portfolio of AngloGold Ashanti, and has long-term, low risk potential. He also noted that these are two main components of AngloGold Ashanti's strategy to increase production in the Americas. This is also a good move for Kinross, as it has recently taken action to sell its non-core assets - this sale does just that.
I believe all of these maneuvers to expand the AngloGold Ashanti mining presence around the world will increase the value of the company, and in result, increase returns to shareholders through a higher stock price per share. All of these purchases and potential acquisitions would help increase AngloGold Ashanti's near term production, while also allowing the opportunity to further explore the gold mining potential in these regions. Therefore, I believe AngloGold Ashanti may be a good gold stock to own in a portfolio.
Looking elsewhere in the mining industry, other companies are taking many of the same steps as AngloGold Ashanti. Industry giants, BHP Billiton (NYSE:BHP), and Rio Tinto (NYSE:RIO) have signed up for the Singapore-based GlobalOre, which will hopefully compete with China's major iron ore platform. These companies are making a strong move to enter into China's market, which is smart given the huge amounts of growth that China's economy may still endure.
In another part of the world, Rio Tinto recently earned approval from the Queensland government to go ahead and expand its bauxite mining operations on Cape York. The plans which had raised concerns from the public and still awaits passage from the federal government, is expected to generate substantial revenue for Rio Tinto, as well as numerous jobs for the Cape York community.
Another international mining company, Freeport-McMoRan (NYSE:FCX), on the other hand, seems to be moving in the wrong direction. More than 70 percent of its revenue comes from copper production, and a decrease in the global copper demand has accompanied the struggling global economy. Obviously, as demand for copper drops, the amount of revenue gained from it will also drop. Freeport McMoRan could be in serious trouble if the copper market does not turn around.
Furthermore, the largest copper and gold mine in terms of production it runs, located in Papua New Guinea, has been dealing with a difficult time of violence and worker strikes. Losing control of the situation at the Grasberg mine could dramatically affect the future of Freeport-McMoRan. If Freeport McMoRan largest gold and copper producing mine was shut down for an extended period of time, it would almost undoubtedly run into a shortage of its product for customers - even if demand is currently down - and may need to adjust its business plan to stay profitable.
AngloGold Ashanti is a company looking for revenue expansion, and growth opportunities around the world. As it continues to acquire mines and explore profitable mining regions, I expect an increase in the value of the company. AngloGold Ashanti seems to be on par with many other mining companies, and well above a company like Freeport-McMoRan. I believe AngloGold Ashanti is a solid investment, with steady growth in the future for its stock price.
Disclosure: I have no positions in any stocks mentioned, and no plans to initiate any positions within the next 72 hours.