AeroVironment, Inc. (NASDAQ:AVAV) designs, develops, produces, and supports unmanned aircraft systems, and efficient energy systems for various industries and governmental agencies. It offers small unmanned aircraft systems (UAS), which provide intelligence, surveillance, and reconnaissance, including real-time tactical reconnaissance, tracking, combat assessment, and geographic data to the small tactical unit or individual war fighter.
It is scheduled to report its Q4 2012 results on June 26, 2012, after the market closes.
Recent EPS Actuals vs. Estimates
The company has failed to meet analysts' estimates in the last quarters. In the last quarter it reported $0.26 EPS, failing to meet analyst estimates of $0.42.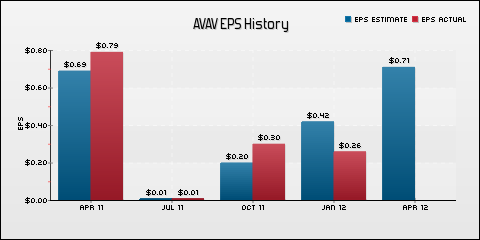 The consensus EPS is $0.71 based on 14 analysts' estimates, down from $0.79 a year ago. Revenue estimates are $112.05M, up from $106.06M a year ago. The median target price by analysts for the stock is $29.50.
Average recommendation: Overweight
Source: Marketwatch
Analyst Upgrades and Downgrades
On March 21, 2012, the company was downgraded from Outperform to Mkt Perform at FBR Capital.
Key Metrics
Market Cap: 513.86M
52-week trading range: 21.14 - 36.49
Trailing P/E: 17.14
Forward P/E: 16.24
Price/Sales: 1.58
Price/Book: 1.81
PEG Ratio: 0.77
Total Debt: 0.00
Annual dividend yield: N/A
Return on Equity: 11.56%
Return on Assets: 9.02%
Latest Developments
Competitors
AeroVironment, Inc. operates in Aerospace/Defense Products & Services industry. The company could be compared to Alliant Techsystems Inc. (ATK), GenCorp Inc. (GY), Mercury Computer Systems, Inc. (NASDAQ:MRCY), and Oshkosh Corporation (NYSE:OSK). Below is the table comparison of the most important ratios between these companies and the industry.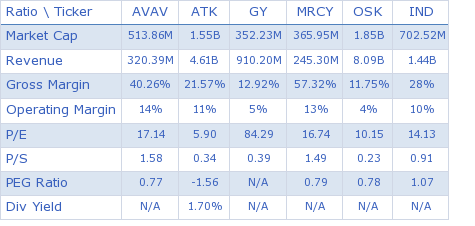 Below is the chart comparison with the stock price changes as a percentage for the selected companies and S&P 500 index for the last one year period.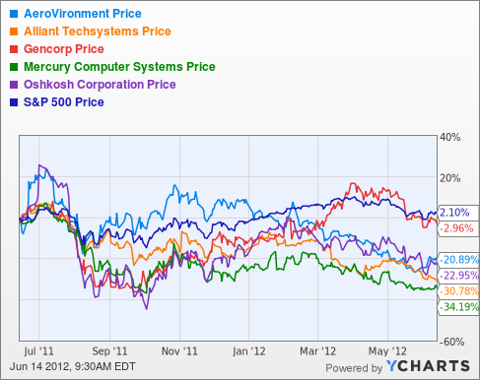 Competitors' Latest Development
Technical Insight
The stock has been in a recent downtrend since November of 2011. It has bounced back from a support at around $22 (the level of the end of 2010). It is trading below 200 SMA but is trying to bounce back up through the 50 SMA. If it does so, it may well test a trendline north at around $28 (close to mean broker target price of $29.50).
Sources: Yahoo Finance, Google Finance, Marketwatch, Finviz, Reuters.
Disclosure: I have no positions in any stocks mentioned, and no plans to initiate any positions within the next 72 hours.