Early last year I dug up the TIPS and CMT (constant maturity treasuries) data and realized the Fed has a very specific focus: the five-year inflation expectation in the market, in the form of CMT-TIPS. I'm sure the Fed looks at other items too -- e.g., term structure of inflation expectation and unemployment, among other things. But the recent history of Fed action clearly shows the five-year data point is a good proxy.
To reiterate:
If InflExp falls below 1.3%, ease -- either lower rates or print.

If InflExp goes above 2.5%, tighten -- either raise rates or withdraw money.

The Fed's comfort zone is 2.0%-2.5%.
Here's the updated chart:
Click to enlarge image.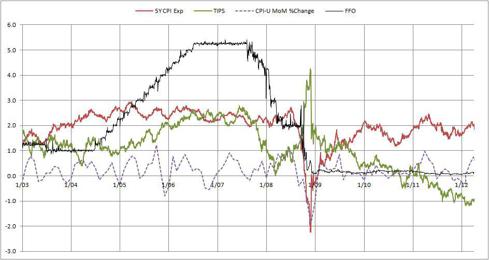 Note that Twist was announced on Sept. 21, 2011, which corresponds to a dip in the red line. The low was about 1.5%, which to the Fed mind calls for some action but not full-scale QE. QE trigger is 1.3%, possibly lower.
Right now, InflExp is about 2%, which is the sweet spot for the Fed. It did drop to 1.65% in May, but has bounced back to 1.8%. It would take an extraordinary event for the Fed to do anything here. With this, you can safely fade any moves based on QE3 expectation, or perhaps even go contrarian -- short gold (NYSEARCA:GLD), stocks (NYSEARCA:SPY) (NYSEARCA:DIA) (NASDAQ:QQQ), USD inverse (NYSEARCA:UDN), long USD (NYSEARCA:UUP). However, treasuries (NYSEARCA:TLT) and TIPS (NYSEARCA:TIP) may react differently depending on the specific Fed action expected, and are thus harder to go against.
That said, there are a few things one needs to watch out for in the near term.
1. Twist is ending at the end of June. There were some dove talks from the Fed recently. Given the recent weak unemployment data, it's possible the Fed might do some small-scale operation such as "Twist 2."
2. If the euro crisis does go global or otherwise causes severe stress in the financial system, the Fed would take some emergency action and inject liquidity into the system.
Considering that the Greece election is still very much a toss-up and the ensuing moves could be significant either way, this is not a good time to make directional bets going over the weekend. As I said earlier in the week, befriend volatility or at least don't make an enemy of it.
Disclosure: I am long UUP.