Excerpts from the March issue of Dr. Del Thiessen's ETF Perspective newsletter:
• • •
Almost daily the Wall Street Journal [WSJ] publishes the performance of the top 15 yield-producing ETFs. They are listed under the title of Ways to Invest for Yield. The data reproduced here are from the January 29, 2008 issue. The key data are yield, price, and 1-day change. The yields are particularly high for ETFs, suggesting that these ETFs are good investments. But, are they? Can we read too much into the lucrative yields?
The following table lists the yield data from the WSJ list and is expanded and updated by adding price changes during the past 52 weeks, the current yield, and Beta, a measure of risk. Beta scores below 100 indicate lower than average risk and scores above 100 indicate greater than average risk.
In today's market these dividend yields are substantial. Most of these ETFs are composed of financial stocks – banks, mortgage companies, REITS (commercial real estate), and insurance companies. The financial sectors have lost their momentum and drag yields down. Several companies are discontinuing dividends entirely. There is one on the WSJ list that involves crude oil (DCR) and another that reflects short- term US Treasury (NYSEARCA:SHV). All of these sectors have been under market pressures.
The extended table illustrates the weaknesses of these dividend ETFs.
Ten of the ETFs show a drop in yields from the data published by the Wall Street Journal.
Every one of the 15, except for the US Treasury Notes (SHV) shares a steep drop from its 52 week high.
Eleven of the 15 ETFs show negative YTD returns (last 12 months)
Several of the ETFs are new and untested. Many have not acquired Beta (risk) scores. Those few with Beta scores are average or above average, suggesting that there may be above average risk.
The bottom line is that even a shallow analysis of the fundamentals of these top- yielding ETFs does not promise the investor a substantial return on investment. They reflect the general troubles of the market and are in sectors of our economy that are showing disproportionate failures. The ETFs that represent these sectors are not sustainable. The dividend payments are likely to be cut or terminated; most of the ETFs reflect a yield level that is history, many of these ETFs are too new to provide the investor with any confidence.
click to enlarge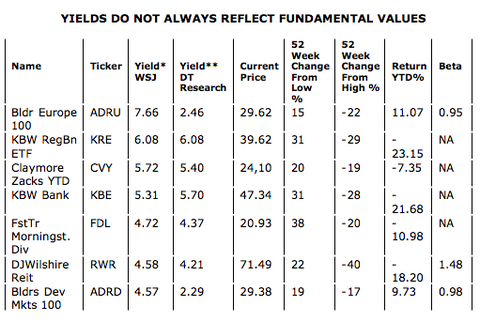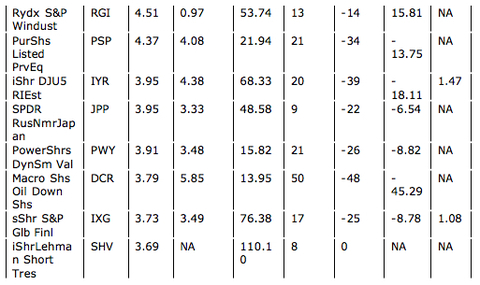 * Listed in the Wall Street Journal [WSJ], 01-29-2008 ** Listed by Author [DT]: from database of www.etfguide.com
The justification for spending this much time on these dividend ETFs is that they can lead the investor astray and cause financial losses. The important message is that one should not buy or evaluate the value of an ETF (or any other security) by large yields. Yields can be high for a number of reasons and not be indicative of merit.
A yield with merit should have the following traits:
The performance of the underlying security must have a history of profit for shareholders.
It should have a consistent dividend performance, measured in years, not weeks or months.
The dividend should ordinarily increase year by year.
The security should be attractive even if it did not sport a dividend. If it does not have a dividend it should have other qualities.
The risk of acquiring an adequate yield should be offset by the fundamental value of the security.
High yield ETFs or stocks come from sectors that traditionally throw off dividends even when markets go through corrections, and at best hold or increase their capital appreciation.
The ETFs listed by the WSJ as possible investments in yield do not easily meet these criteria. They may improve their performance over time as the market works its way though its credit problems.
Now we can consider a few ETFs that generate good yields and are not as risky as those provided by the Wall Street Journal.
Four ETFs stand out as long-term investment possibilities. In fact, they are constructed to generate dividends over the long term and may be less subject to market risk. Nevertheless, these ETFs harbor sector vulnerability and hold significant financial stocks. DVY, for example, has 70% of its assets concentrated in two sectors: financials and utilities. According to MarketWatch, 02-25-08, DVY plunged in late January to about 33% of its May, 2007 high. For the 12 months through February 7th, iShares was down 10.4%, trailing the S&P's 500 Index by more than 4 percentage points. Investors need to exert caution; dividend ETFs should not be considered mainstream funds or hedges against recession. Keep these ETFs on your watch list, but delay significant investments.
Other new international dividend achievers have recently appeared on the ETF market. State Street unveiled its first foreign dividend offspring on February 19, 2008, The SPDR S&P International Dividend ETF (NYSEARCA:DWX). The index represents the top 100 non-US stocks based on dividend yield and includes both developed and emerging economies.
According to Investors Business Daily, DWX joins a crowded field that includes Claymore/Zacks International Yield Hog (NYSEARCA:HGI), First Trust Global Select Dividend (NYSEARCA:FGD), iShares Dow Jones EPAC Select Dividend Dow Jones EPAC Select Dividend (NYSEARCA:IDV), PowerShares International Dividend Achievers (NASDAQ:PID), and WisdomTree International Dividend Top 100 (NYSEARCA:DOO), WisdomTree DEFA High Yielding (OTH), and WisdomTree International LargeCap Dividend (NYSEARCA:DOL). Again, the holdings of these competitors range from 33% to 53% Financial stocks, which have dragged down several of these international ETFs. Nevertheless, these international investment vehicles extend the range of dividend yields and hold out promises for the future.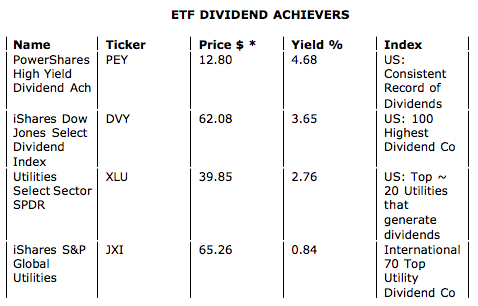 * February 15, 2008