According to Sohu News, Baidu (NASDAQ:BIDU) met with Sogou's management earlier this year to discuss acquiring Sohu's (NASDAQ:SOHU) search unit. While Sogou's CEO Xiaochuan Wang declined to comment on the issue, sources inside Baidu confirmed the meeting took place, but Sogou's management rejected Baidu's offer.
Baidu's failed attempt to acquire Sogou is significant for three reasons:
The emergence of Sogou as a threat to Baidu's search dominance is real, and Baidu would like to neutralize the competition before Sogou increases in scale.
Baidu is acknowledging its weakness in providing network externalities and that Sogou's strength in browser and Chinese character continues to gain momentum among Internet users.
The dynamic of China's search market is changing as Sogou rises in prominence.
Sogou's Threat To Baidu Is Real And Growing
In my April 10, 2012, article "Sogou: An Emerging Threat To Baidu's Dominance," I pointed out that Sogou is gaining momentum in the search market as it continues to deliver search results that are comparable to that of Baidu, and attract incremental users with network externalities such as the browser and Chinese character input software.
According to Chinese Internet statistic provider CNZZ, Sogou is the second most used Internet search engine, behind Baidu, in China.
Click to enlarge images.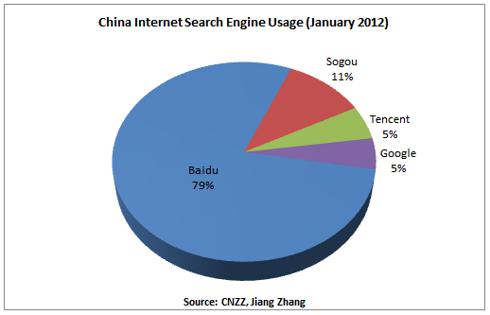 Click to enlarge
Sogou also has the second highest penetration rate in China, according to China Internet Network Information Center.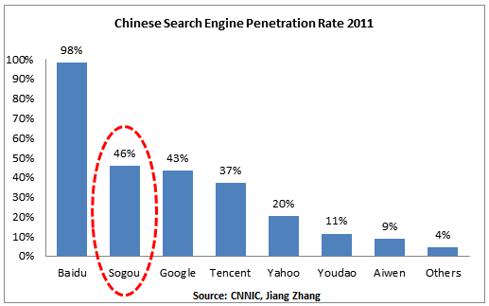 Click to enlarge
While Sogou's search engine initially lagged behind Baidu's Box Computing, the company wasted no time in catching up to its bigger rival by creating its own proprietary semantic search engine. For example, a search of "Beijing-Shanghai" on both Baidu and Sogou returns train schedules, airline ticketing services, and airfare rates in addition to webpages.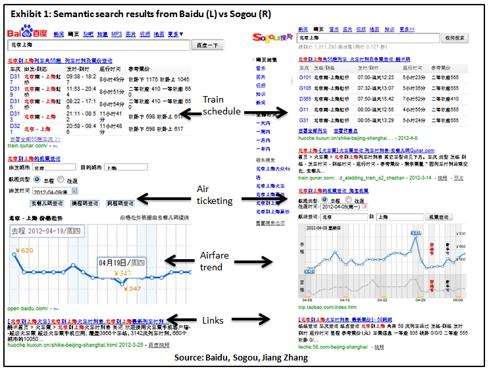 Click to enlarge
Recall that semantic search is different from traditional search in that it generates superior search results based on the contextual meaning of the search input and thesearcher's intent. Given that Sogou can deliver comparable search results to that of Baidu, users will become increasingly indifferent when using either search engine. Therefore, a critical differentiator that separates the search engines will depend on network externalities that attract users and provide them with direct access to the search engine.
A Search Engine Is Useless Without Accessible Gateways
According to Xiaochuan Wang, Sogou's biggest advantage over Baidu lies in its portfolio of network externalities that are widely used by Chinese users. The externalities, such as the Sogou browser and Chinese character input software, act as gateways to the search engine.
A search engine is useless without gateways. For example, users most likely are unable to access any search engine without an Internet browser. Sogou was the first to realize this critical aspect of the value chain and took the novel approach of providing free products with the objective of generating user engagement and an expanding user base to drive traffic on its search engine.
According to iResearch, Sogou Browser was the third most widely used browser in China last year, behind Internet Explorer and 360SE by Qihoo (QHOO).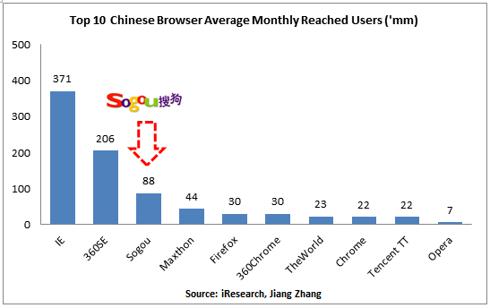 Click to enlarge
The products were heavily discounted by investors because they generate no revenue. But the impact of these free products is evident in Sogou's user adoption over the past two years.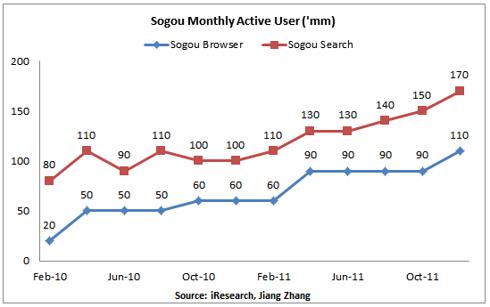 Click to enlarge
By running a regression analysis on relationship between browser and search user base, I found that the number of Sogou browser users explains 87% of the variation in the number of Sogou Search users over the past two years, as indicated by the R-Square.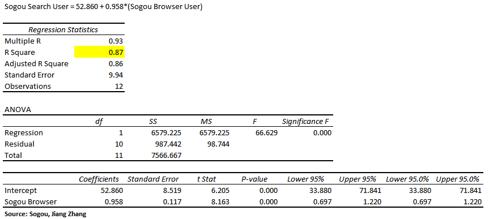 Click to enlarge
Aside from the web browser, Sogou also offers Chinese character input software. The software allows users to type in Chinese using QWERTY keyboard.

According to a study done by Tsinghua University, Sogou Pinyin led all the input software with an over-80% penetration rate in 2011.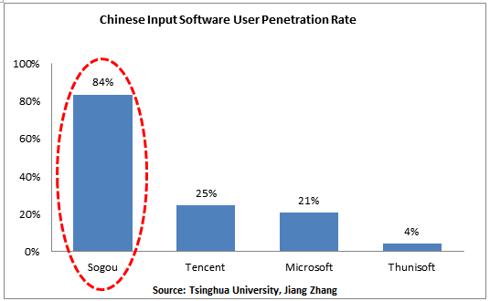 Click to enlarge
By the time Baidu grasped the significance of network externalities, the company began to mimic Sohu's strategy of introducing its own web browser and character input to provide users with gateways to its search engine. However, Sogou's lead in both product categories continued to widen, and Baidu's attempted acquisition of Sogou could be an acknowledgement that its strategy was not gaining traction and that the best method to capitalize on controlling the gateways is through acquisition.
Loosening Of Baidu's Monopolistic Grip
Finally, Baidu's failed attempt of acquiring Sogou also indicates that the dynamic of the search market is changing and that the future of China's search market will likely be dominated by several relevant players that compete on:
Search quality
Network externalities (e.g., browser, mobile, pinyin input)
Sogou is gaining momentum in China's online search market. Over the past two years, Sogou's revenue growth on average grew at a rate double that of Baidu's.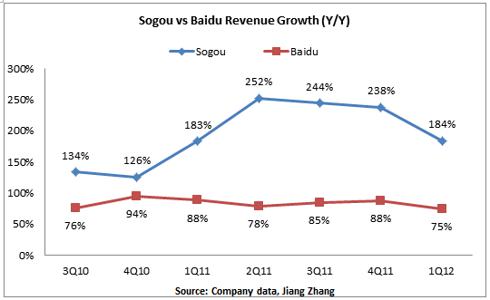 Click to enlarge
While I acknowledge that Sogou's robust growth is due to a lower base in that Sogou's Q1 2012 revenue was only $23 million compared to Baidu's $677 million, investors should not overlook the emergence of Sohu as a threat to Baidu's dominance. Despite Baidu's aggressive push into mobile to expand its search gateways, CEO Robin Li acknowledged that mobile search is less profitable than desktop search. Unless Baidu gains a meaningful foothold in mobile, the company will continue to rely on desktop search as its main revenue contributor -- but it will also continue to be challenged by the growing prominence of Sogou.
Disclosure: I have no positions in any stocks mentioned, and no plans to initiate any positions within the next 72 hours.