Citigroup (NYSE:C) is one of the oldest denizens of the US financial sector: it's been around 200 years. It's seen many bailouts and financial crises during that period. Citigroup was one of the hardest hit by the 2008 crash: adjusted for the reverse split, C stock is more than 95% below the high of 2007.
The news for Citigroup has been somewhat of a mixed bag. Last December, Citigroup ranked 23rd of the 100 largest US banks in a comprehensive analysis of financial health by Forbes. Yet this March, Citigroup underperformed in the Fed's stress test.
Citi's strategy for remedying problems is as follows:
Instead of boosting its capital payouts, the company intends to build its capital level and continue with its efforts to trim its non-core assets.
Read more here.
This sounds like a pretty good strategy, but the key question is execution. Will Citi follow through on their promises?
The Good Citi
Citi definitely has some things going for it. An overview:
The stock is cheap compared to book value: tangible book value is reported as $50.90/share, and market value per share is approximately half of that.
The stock is cheap on an earnings basis: analyst consensus for 2013 earnings is $4.62, giving Citi stock a forward P/E of between 6 and 7
The shares trade just over half their reported March 31 tangible book value of $50.90, and less than six times the consensus 2013 earnings estimate of $4.62
Although Citi nearly collapsed post-crisis, it has repaid the $45 billion taxpayer bailout
Citigroup has returned to profitability and reinstated a dividend
After scrapping plans for boosting shareholder payouts, Citi actually passed the Fed stress test.
Citi is set to increase dividends and/or stock buybacks in 2013
The Bad Citi
Citi is still facing problems and, in some cases, a complete lack of confidence. Consider the following:
In a presentation earlier, Pandit had given details on Citigroup's net current funded exposure to Western Europe as of the end of last year.

To corporations, it was $4.1 billion: $1.4 billion of that was in Spain, $1.3 billion in Greece and $0.8 billion in Italy.

To financial institutions, it was $1.6 billion, with Spain accounting for $1.5 billion of that.

To sovereign governments, it was $0.7 billion, with $0.4 billion of that in Italy.
Conclusion: Citi Improving, but Has Work To Do
(click to enlarge. source: FreeStockCharts.com)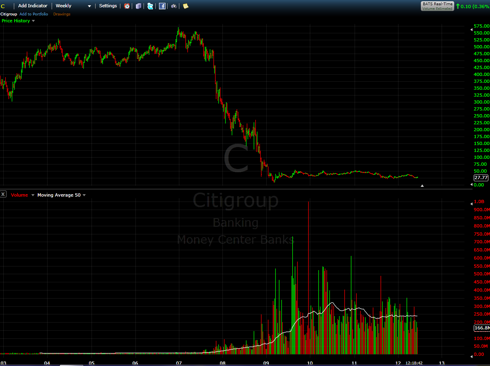 Citi definitely has some factors in their favor, but the road to recovery may be slow. Especially with the high level of European exposure -- specifically to Spain, Greece, and Italy -- I'm not convinced that Citigroup can keep up with its peers. Stronger banks like Wells Fargo probably present investors with a more certain financial future at this point.
For those looking for a little more risk (and consequently upside), I've written before about why Bank of America (NYSE:BAC) is my favorite contrarian play in the financial sector.
Disclosure: I am long BAC.