Zynga's (NASDAQ:ZNGA) vision is to have 1 billion people all playing games together, but if the company doesn't get its mobile strategy in place and implemented, the company in Monopoly terms, may have to go straight to jail without passing Go.
Zynga bills itself as the world's leading provider of social game services where users play its games, which include CityVille, Zynga Poker, Draw Something, Hidden Chronicles, FarmVille, CastleVille, Words with Friends, Empires & Allies, Scramble with Friends, Café World, The Pioner Trail, Indian JonesTM Adventure World and Mafia Wars.
Zynga's primary introduction to users has been through Facebook (NASDAQ:FB) discussed in this article, but neither Zynga or Facebook have successfully gained momentum in the mobile platform segment. Both companies are working on mobile efforts, with Zynga acquiring OMGPOP, the creator of the hit mobile game Draw Something.
In Zynga's Q1 2012 earnings call held on April 26, 2012, the company raised guidance and indicated the guidance would not have been raised without the acquisition of OMGPOP. The quarter was the company's first full quarter as a public company. Zynga grew daily users by 20% and noted the company's games were 8 of the top 10 games on Facebook. In the quarter, Zynga introduced reward advertising and added new advertiser partners in Kia Motors, Scotts Miracle Grow (NYSE:SMG) and Match.com (private). Zynga's advertising related strategy going forward appears to be transforming advertising into a fun and enjoyable experience.
Competitors to Zynga include Dena (OTC:DNACF), Electronic Arts (NASDAQ:EA), Nintendo (OTCPK:NTDOY) and Gameloft (private).
Zynga's stock price has been up, followed by down since is IPO near the end of 2011 as shown below: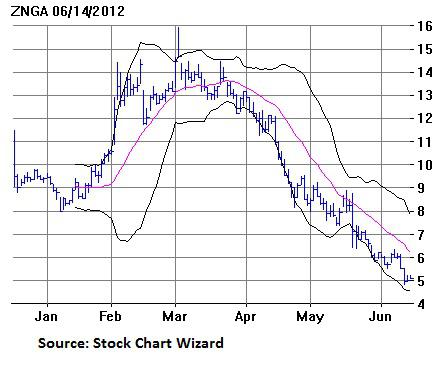 An investor in Zynga might be wondering "how low can it go?" To prevent continued further loss in a Zynga investment, an investor might consider a protected covered call for the company, as the strategy enables positioning an investment for a potential return, yet provides protection against a large drop in price. A protected covered call may be entered by selling a call option against a stock and using some of the proceeds from selling the call option to purchase a protective put option for "insurance". Basically, selling the call option pays for "stock insurance", but also provides for a potential return, even if the stock price remains stagnant.
A protected covered call or collar search performed using PowerOptions tools, seeking to find the highest returning position for companies with a maximum potential loss of 8%, produced Zynga as shown below:

Click to enlarge
Trailing Zynga in potential return were steel products company United States Steel (NYSE:X), pharmaceutical company Vertex Pharmaceuticals (NASDAQ:VRTX), cloud computing company Rackspace Hosting (NYSE:RAX), digital video company Netflix (NASDAQ:NFLX) discussed in this article and Internet search company Google (NASDAQ:GOOG) discussed here.
The highest returning positions as shown above were found by selecting to search and sort by the highest returning positions. The 8% maximum loss parameter was selected, as a loss of 8% or less can typically be recovered fairly quickly using option income generating investment methods.
The Zynga protected covered call has a potential return of 4.3% (41% annualized) and a maximum potential loss of 6.2%, so even if the price of the stock goes to zero, the maximum loss that can be sustained is 6.2%. The specific call option to sell is the 2012 Jul 5 at $0.55 and the put option to purchase is the 2012 Jul 4.5 at $0.30.
For a stock price below the $4.5 strike price of the put option, the value of the protected covered call remains unchanged (at expiration). If the price of the stock increases to around $6, the position can most likely be rolled in order to realize additional potential return.
Disclosure: I have no positions in any stocks mentioned, and no plans to initiate any positions within the next 72 hours.